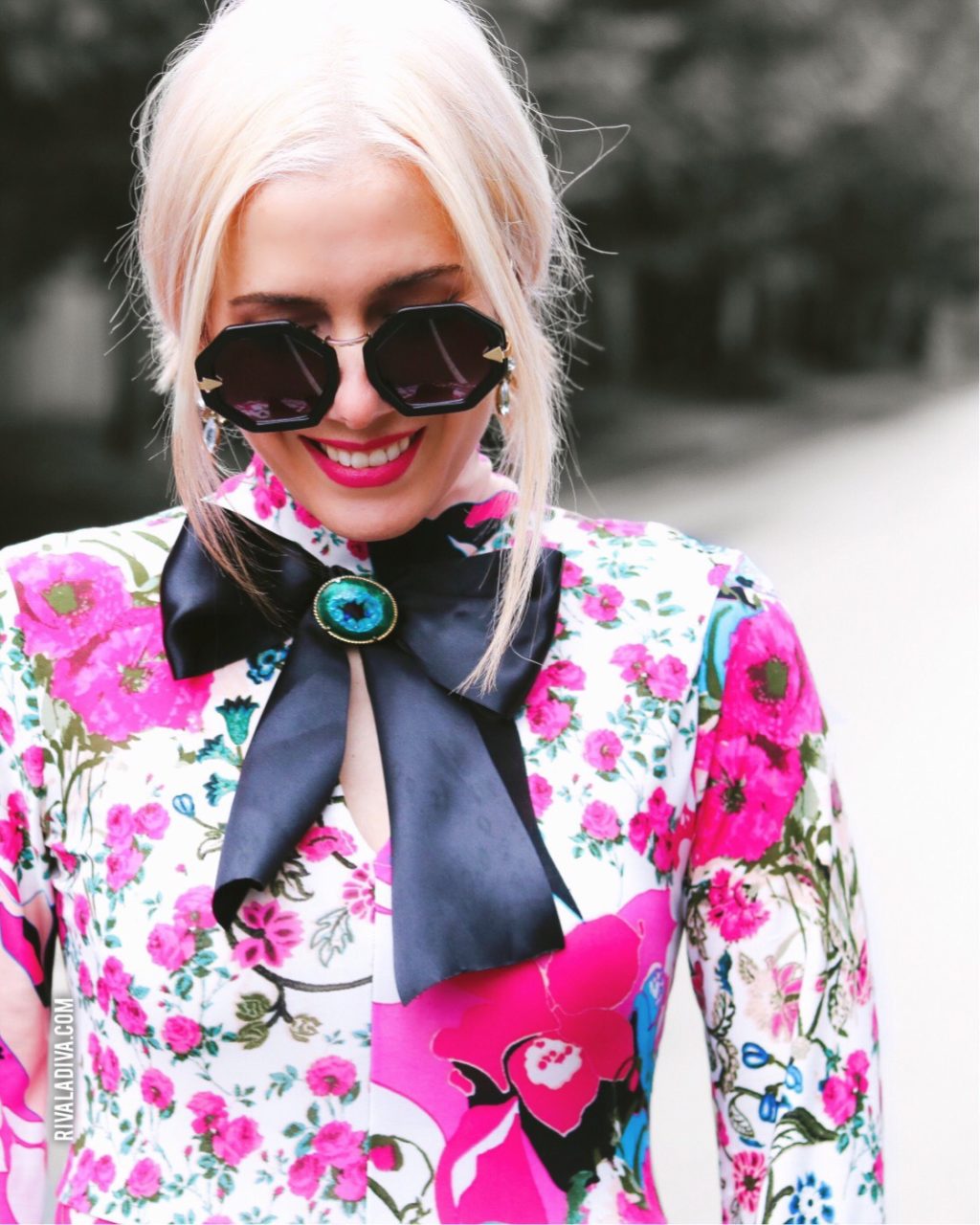 Gucci Inspired Dress Tutorial
Gucci Inspired Dress Tutorial
---
ON ME // dress: Burda Pattern 6848,: Vintage, purse: Nicole Lee USA, heels: Kendall + Kylie,  Lips: Riva La Diva Lips 
Hello again friends! I have a fun Gucci Inspired Dress Tutorial that gives me so much joy that I am thrilled to share it wiht you today!
Have you ever created or worn a garment that made you feel on top of the world? When the very minute you put it on, there's an instant and immediate ego boost that awakens your senses? Not only that, but when you walk into a room it catches the attention of friends and passersby? (my favorite events, ha!)
Those moments are magical and my dear friends,
I created a little magic last week in my sewing room. 
Yep, M A G I C – like the kind of magic Cinderella's fairy godmother used. All basic materials I already had on hand: fabric, a simple pattern, a little imagination, inspiration, and some brain power. Something I obviously haven't used in a while because the fact it has taken me this long to create something so simple and yet so exciting is beyond me! The look is inspired from Gucci's Fall 2017 collection with the long dress, long bell sleeves, floral prints and a magnificent bow at the neckline (check it out here, here, & here).
I saw this similar look on my shopping trips in Paris, Seattle, London and New York City last year and I'm so happy to bring it to life – to my life! AND I'm gonna help you, too!
To get started on this Gucci Inspired Dress Tutorial, you will need the following items:
A dress pattern. I used Burda Pattern 6848, view B for the bell sleeves and view C for the body. I've used this pattern many times before in the past and it's a great little addition to your sewing archives;
Fabric, I used a really drapey and incredibly stretchy Lycra Jersey;
A yard stick,
Pattern making paper (you can use butcher paper, gift wrapping tissue paper, or 1" grided wrapping paper – works amazing)
BOW TIE: 4" Ribbon (1 – 1.5 yards), a brooch, needle and thread and a brooch attachment.
DIRECTIONS:
Preparing your patterns and gather pattern drafting paper and pencil.
BODICE: Trace out your front bodice pattern in pencil and add a 5/8" seam allowance to your center front line of your bodice – ignore the original "cut on fold" instructions.


Add a keyhole 1" below the center front neckline; opened keyhole length is up to you but you want to add notches where you want to stop sewing.


SKIRT: Trace out your front skirt and add flare and length to your hemline. I used a yard stick and measured out from my hipline to the length of the floor; flaring the skirt length out along the side seam for extra movement. Repeat to the back skirt pattern.


Once patterns are complete, determine how much fabric you will need.
Cut fabric.
Sew center frontline. Sew the 1" length at the top of your neckline and continue below the second notch.


Continue to sew your dress according to pattern directions except finishing the neckline.
NECKLINE
With the neckline raised, we are able to attach a mock turtle neckband. I created a neckband using the cuff as a starting point. Before you sew your neckband to your dress you want to test the fit. Sew side seams together, fold in half (like the cuff instructions), pull over your head and test the width around your neck. If it is too loose, take in at the seam. I did this a few times until my neck band was no longer slouchy and could easily fit over my head. Once I got the fit, I attached the neckband to my neckline.
Time to add the Gucci inspired bow. I LOVE this bow and feel like it was truly the most magical piece that made the look truly magnificent. Thank you Gucci for the inspo! T
– Tie your ribbon into a bow.
– Lay the bow on your ironing board and with a pressing cloth on top of it, steam the knot so it helps to eliminate any extra volume/bulk. Be careful not to iron any other parts of your bow except the knot.
– Attach your brooch on one side of the knot and hand sew the brooch attachment to the other side – voilà!
Insta Gucci neck bow-tie. I found the brooch when I was in Versailles, my hubby and I found the most amazing hole in the wall thrift shop and I spent a long time there searching for treasure!

Not too shabby, right? *whew* 
Well, I'm hoping all this makes some sense. I haven't made a tutorial like this in a super long time – luckily, it's all jersey, very forgivable fabric and I love sewing jersey. If you decide to give this a try, share it with me on Instagram, @RivaLaDiva and/or give me a shout out on Facebook at Riva La Diva. I would love to hear from you and celebrate with you on your newest creation!
Alright lovelies, I'm off to my sew room to work on some more magic. Have a glamorous day!
xo/ Riva