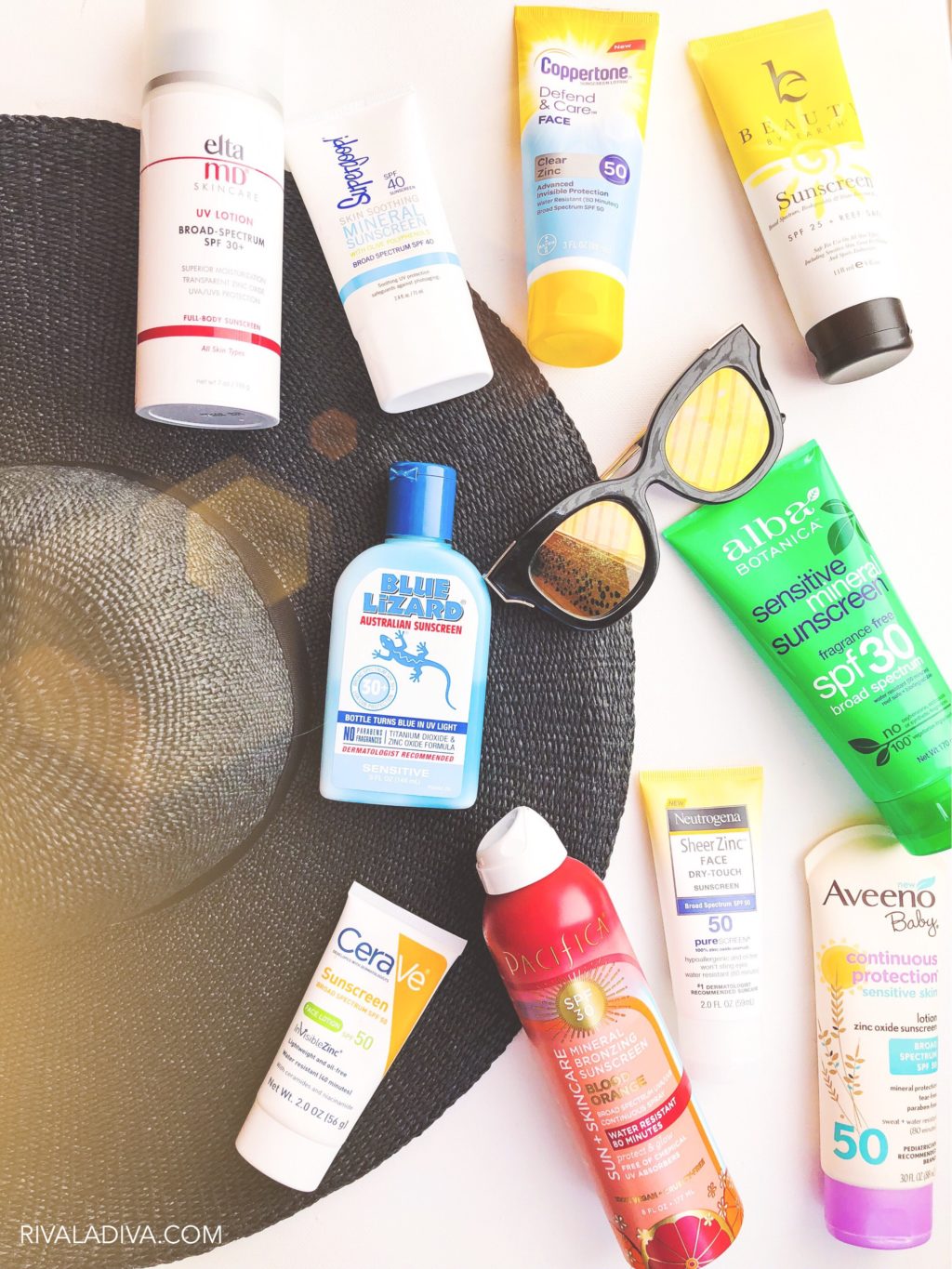 SUNSCREEN: the Worst and Best of 2018
SUNSCREEN: the Worst and Best of 2018
---
Sunscreen.
Sunblock.
The sunburn preventer.
That gross sticky lotion crap.
My long term fountain of youth investment plan.
And what my kids like to call it: aw, dang it.
Welcome to my whatever you call it, I'm hoping you are somewhat familiar with SUNSCREEN. Last month I spoke out about my experience with Skin Cancer and What I Wish I Knew about it. Now let's talk about protection, because clothing and hats can only protect so much!
I know. I know what you are thinking and I'm sorry but it's a necessary chore. My greatest desire is protecting that gorgeous skin of yours and I am truly passionate about it. So much so that I went into debt to do it. You betcha… this is not a paid post. I wanted you to know that I am giving you my honest opinion (like I always do) and to show that I am truly putting my mouth keyboard where my money is.
Yeah… that means my fashion and sewing money is out the windoor for a while but it's okay because like I said… SUPER PASSIONATE.
Anything for you, daaawwling!
First, I grabbed a bunch and put them to work. I wanted you to have in store and online options. In case you were a pinch and needed something last minute (oh girl, I know you know what I am talking about), and then you would know where to find it. I was so impressed with the shelf selection this year, there are so many companies offering mineral based sun protection with Zinc and Titanium Dioxide. This is such an important thing! Rather than chemically absorbing the UV rays and then altering them, a zinc based or titanium dioxide sunblock will do just that. BLOCK the rays from penetrating your skin and bounce off some where else.
Remember:
Chemically sunscreens absorbs – which sounds icky to me.
Mineral based lotion block. Bounce off. They do not pass go and will not collect $200.
The problem I often run into with my self and family is that using a Zinc based sunscreen is not a fun experience. People end up looking like ghosts, dries skin out, does not blend well, super oily, and hurts to rub into the skin. Because of this, my family hates sunscreen now. This year, I thought I would change all that!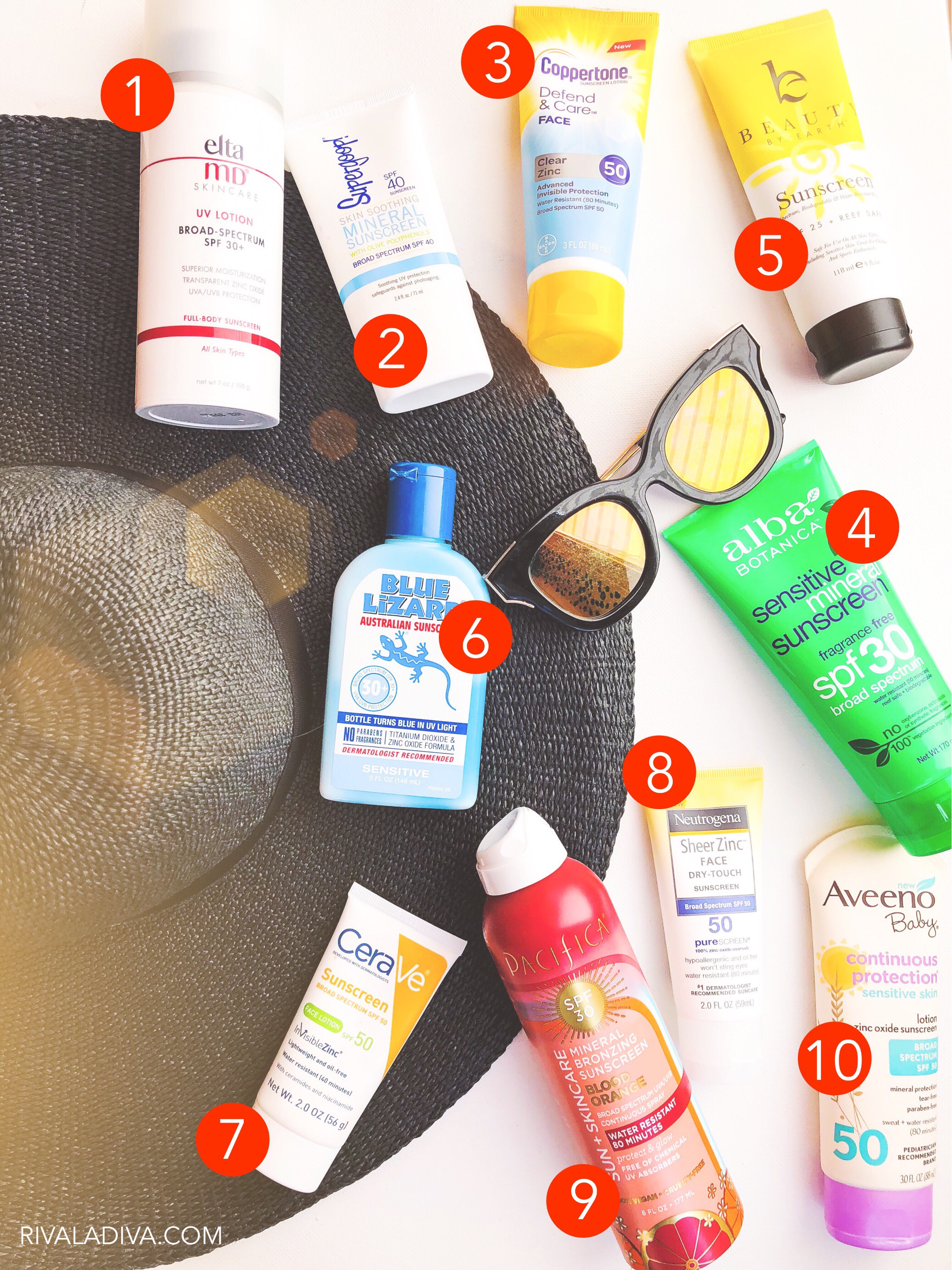 Out of the ten I went in debt for, I will share my favorites and walk you through each one. I am also gonna start with my top 3 favorites. They're the best I have used so far and will stick with these in the future!
Elta MD – 7.0% Zinc Oxide. Goes on Smooth. Non Drying. No zinc residue or sticky. Zero greasy feeling. Perfect for everyday use. Has a 30 SPF. The bottle I own is 7.0 oz. Sells for $35 (currently 20% off at $28.00). This stuff is BOMB. It's a little on the pricier end but for 7.0 oz, it's not too shabby. I specifically use this for me. Since my diagnosis, I have a 50% chance of getting skin cancer again. So protection is my everyday routine. Elta MD is soft and moisturizing. It goes on smoothly and doesn't leave my skin feeling gross. I was afraid of the price but since I use sunscreen everyday and reapply often, this simply makes sense! I even use the one for your face – also amazing. You cannot feel it on.
Supergoop! Skin Smoothing Mineral Sunscreen – 10.1% Zinc Oxide. Also goes on smooth. Non Drying. No zinc residue or sticky, greasy feeling. Perfect for everyday use and multiple times a day. Has a 40 SPF. The bottle I own is 2.4 oz. Sells for $28. I like the higher Zinc number and will most likely use this when I am out enjoying the water. It's reef safe and they don't test on animals. My husband loves it. He's naturally very, very tan and so most zinc products will turn his skin color a little ashy. This will not and will blend in evenly through his chest and arm hairs. My kids love it.
Coppertone "Clear Zinc" – 9.7% Zinc Oxide. Also goes on smooth. Non Drying. No zinc residue. You can barely tell it's on. It could be great for everyday use. Has a 50 SPF. The bottle I own is 3 oz. Sells for under $10 at stores. This the best cheap sunscreen I have found in stores. I will buy again.
The next FIVE were okay. If I was in a pinch, I would buy them. Since I already have them, I will most likely save them for those long days at the beach where I know people are getting in and out of the water often.
Why? Because they are a little greasier and/or left a slight zinc residue on my skin. Still amazing but after multiple applications if felt suffocating and a little sticky without having the option of the rinsing my skin in a large body of water.
Another reason why? Because they are cheaper AND when you spend a day at the beach. Expect to use up the bottle when you bring the family. Sounds crazy right? I totally know what you mean! I don't know about you, but in my house growing up, in the ahem, 90s, one bottle of sunscreen used to last yeeeaaarrrssss in my house. Little did we know, that bottle should have disappeared after the first week!
Why, you ask? I'll tell ya my dear… you need to use 1 shot glass full of sunblock for ONE person (babies would totally use less, duh). Remembering to reapply every 80 minutes or so. THEN times that by multiple family members. We didn't have these in little computers in our pockets, so I will give my parents some slack but nowadays, we can set these little clock thingies on our phones that will ding at us to remember to reapply (aka your timer). Use it, if not for yourself, for the sake of your babies.
The following…. just don't. The end.
Pacifica Mineral Bronzing Sunscreen – 14% Zinc Oxide. Has a 30 SPF. The spray bottle has 6 oz. Sells for approx. $15 online and in stores (ULTA and Target carry the brand). I wanted to love this… when you slap "bronzer" on the bottle it seriously makes you giddy. It's a spray that goes on smooth and with zero white cast (maybe a little pink tinted bronze color). Here's the catch, the zinc "bronzer" is the zinc residue that gives sunscreen such a bad name. It's messy and gets all over the place – so instead of white mess all over your clothes and towels and furniture, it's bronze mess… which might be worse in my opinion but it looks gross. I used it on my legs for my stripe skirt and got makeup all inside the hem…. I was super sad this did not workout. Great idea but a major fail.
Aveeno Baby Zinc Oxide Sunscreen lotion – 21.6% Zinc Oxide. Nope. I'm not even wasting my time to explain more. It's drying, hard to put on, greasy, gross, super zinc-y white, and just no.
Compared to 2 years ago, the sunscreen game has changed SO MUCH. I expect there to be smarter and easier to use options in the future! YAY for science and YAY US. 
I hope this run down was helpful and it gave you an good idea about what's out there. If so, please share this post and pin it on your Pinterest boards. I know so people want to know what's good out there and I want to spread the word! I get a ton of questions about sunscreens and want to share what I have learned so far. If you have sunscreen you use and love, tell me about it! I'd love to give it a try for 2019!
Thanks for stopping by and have a super-ultra-glamorous day, darlings. You deserve it!
xo, Riva