Flounce Skirt Tutorial
Flounce Skirt Tutorial
---
Another day, another fashion tutorial for you – inspired from a skirt that looks nothing like the one you see here but when you look past the prints and the vibe – they are practically twinsies. So come give this Flounce Skirt Tutorial a try!
Okay, so I love stripes, duh and I love when they go all here and there and all over the place with a happy flounce. To be honest, with four kids running all over the house, my life looks a lot like this skirt – all over the place. Even on my best day, the "all over the place" feeling is in the nooks and crannies of my existence – so this skirt is a good representation of my glamorous struggle.
But seriously, let's talk skirt.
I used a simple pencil skirt and went all in with my pattern-drafting skills and hacked this pattern (McCalls Pattern M6757) to pieces. So while this is NOT a sewing tutorial, I am going to break down this basic skirt pattern and hopefully inspired you to look at your patterns differently and recreate your own!
First, let's talk inspiration. Like I said, I found something similar here and it has so many fabulous qualities that makes a garment interesting:
Flounce, check
Asymmetrical hemline, check
Curved lines, check
Slit, check
The only thing I wasn't crazy about was the fabric. No offense to Johanna Ortiz but I'm more of a "make it pop" kinda gal, and hello, can one ever go wrong with stripes? I certainly hope not. So when it comes to breaking down the skirt, we need to look at the pieces and focus on design lines, such as:
Where do we want the hemline to stop?
Where do we want the flounces to start on the skirt? Or end?
How much skirt/hemline do you want to see poking out below the flounce?
What side of the skirt will the slit be placed? AND how high will the slit go?
Materials:
patternmaking paper, sometimes I used tissue paper (yeah, the gift wrap kind) and glue a few togetheror go out and buy actual pattern making paper. However, I DO like the transparency of the gift wrap.
pencils
paper scissors – because you KNOW fabric scissors are out of the question!
Flounce Skirt Tutorial…
To start, you want to retrace your beloved pencil skirt pattern of choice onto pattern making paper. This will act like the bones of your pattern and help guide you through the process. I never cut up the bones. One time I lost a piece when I was ACTUALLY making this skirt and I was so thankful to go back to my first draft and recreate the piece I was missing. The bones is where we create the style lines for this garment.Notice

below

that you are tracing out BOTH sides of your pattern (right and left). We have an asymmetrical design, which means we need to work both sides of the front skirt AND the back skirt. Additionally, copy the grainline, notches and draw/measure the seam allowances already included on the pattern.


With this skirt, I purposely altered the hemline. I wanted the hemline to feel organically asymmetrical and that meant the back hemline was also uneven. Using a curved ruler, I'm able to to create curved hemlines as illustrated below in light blue.


SEAMLINES. I'm also creating new seamlines for flounce placement. If you are looking at the diagram below correctly, the curved lines that the oranges arrows are pointing to DO NOT meet up (point to point). However, they do meet somewhere (unevenly) on that "new front seamline".



and of course, don't forget to add seam allowances where you made new seamlines. VERY important.


Back skirt view

:


The pattern (below) will have FOUR pieces when you re-draw them individually onto another sheet of patternmaking paper. These pieces will to include seams allowances where those new seams meet up (as seen below). The four skirt pieces will include: Top Front Right Skirt, Bottom Front Right Skirt, Top Front Left Skirt, and Bottom Front Left Skirt. LABEL EVERY SINGLE PIECE.The back skirt is slightly different, instead of 4 pieces, it can be broken up to 2-3 pieces. Two pieces if you throw the zipper on the side seam: Top Back Skirt and Bottom Back Skirt.Or 3 if you include a zipper in the Top Back Skirt which can give you 3 pieces: Top Back Right Skirt, Top Back Left Skirt and Bottom Back Skirt. DO NOT FORGET TO LABEL.

FLOUNCE. Going back to your working sloper – the bones of your pattern (this is why we never cut the bones). Create the pattern for the flounces, as seen in pink. YOU choose the length of your flounce.
Trace them onto NEW patternmaking paper as an individual piece.


Putting volume into our flounce. This is where it gets fun and messy…
if we pretend that the picture below is the back flounce pattern – when traced onto new patternmaking paper – it might look a little like the first flounce in the picture below. Once you trace the flounce, cut it out as one big paper piece. Then, very carefully, starting at the bottom of your flounce hemline, cut towards the flounce seam without cutting through the flounce seamline. It should be dangling together by paper fibers. Repeat as many times (evenly) as you like.



Next, spread the cut (but still attached) segments of the flounce apart onto a NEW piece of blank patternmaking paper. I tried to make the new hemline 2.5x the length of the original flounce hemline. Tape the spread apart flounce pieces into place on the new paper and redraw a new hemline (as seen in pink, above) and also redrawthe seam line (you might have to clean it up).ADD seam allowances to both new lines.
Once completed, you can start sewing and planning your new skirt project and it should look very similar to the sketch and photo below (the dotted gray line representing the back skirt).

Again, I'm not helping you sew it together but instead, we are playing more with the idea of pattern making and pattern alteration. I recommend taking your time and if you have any questions or find errors, let me know. I want to help you with this Flounce Skirt Tutorial.
Well, I think that covers it! If you decide to give this Flounce Skirt Tutorial a try, share it with me on Instagram, @RivaLaDiva and/or give me a shout out on Facebook at Riva La Diva. I would love to hear from you and celebrate with you on your newest creation!
Until then, have a glamorous day and enjoy the spring season!
xo/ Riva
If you love skirts or stripes, check out the following tutorials!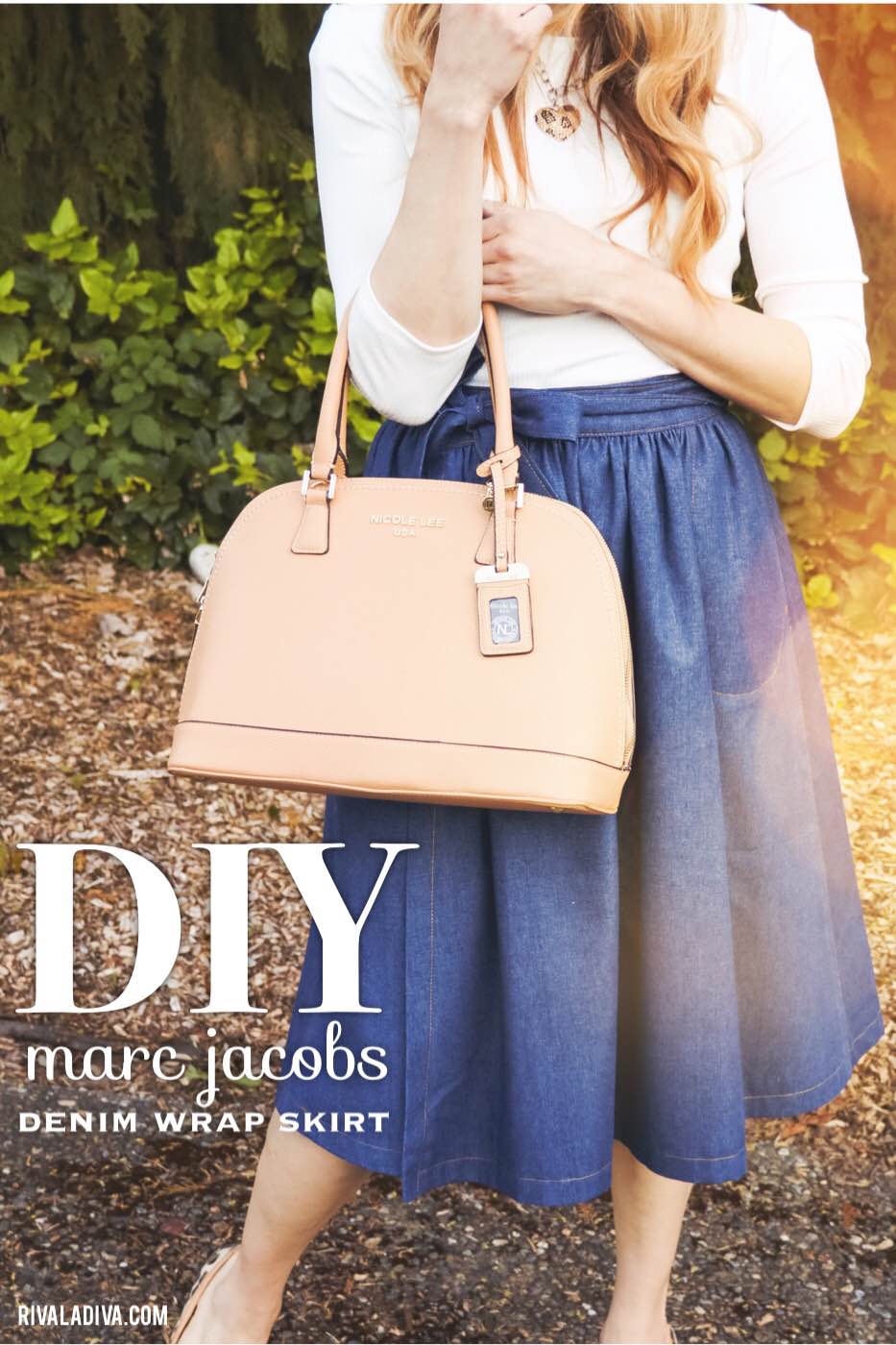 DIY Michael Kors inspired Lace skirt: