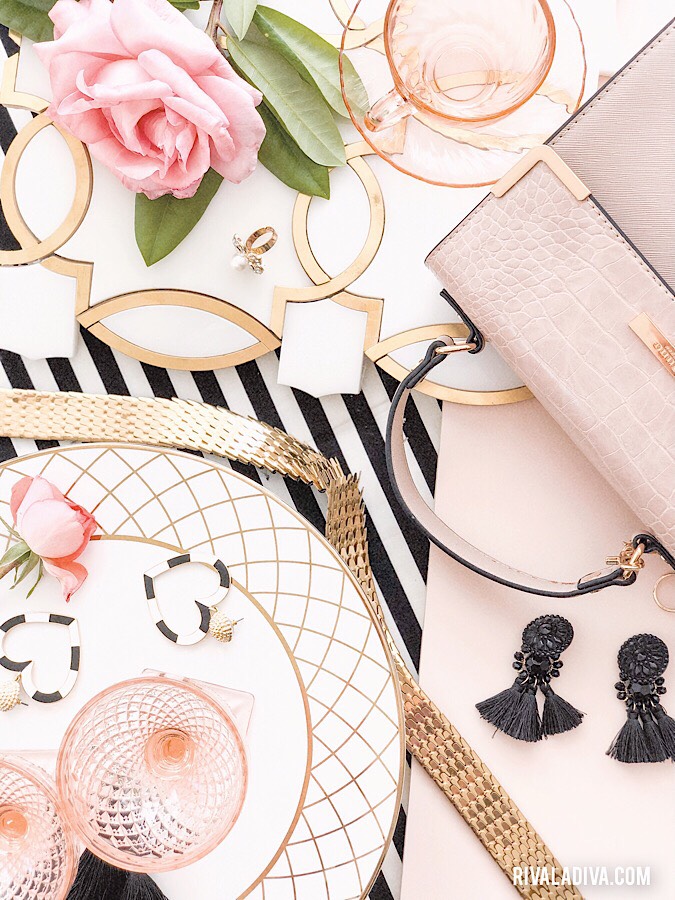 Blush Kitchen: 4 Best Glamorous Ideas to Try
Blush Kitchen: 4 Best Glamorous Ideas to Try
---
It was "blush at first sight" when I walked into the Gallery at Sketch London and now I'm bring all my pink dreams come true with my latest blush kitchen renovation!
OH-EM-GE!! I have a team in my house gutting my kitchen out, like write right now and I'm sooooo incredibly excited. It's like the day before planning a birthday party… FOR MYSELF.
However, instead of one day – I get a full month. It's awesome.
And can I confess something to you? I almost feel kinda guilty about it.
What's that about?
Who does that?
My life isn't fancy, we're not rich and we do not own expensive stuff. Like most people, I just hang out in my corner of the internet wishing (and making) to wear more beautiful clothes and finding ways to live and celebrate (with gratitude) the time I have in this life!
To live. Experience. Learn. Make choices. It's a gift and a luxury.
This kitchen project happened unexpectedly, explained HERE, and I've spent the last 6 months with migraines trying to figuring out and imagine how this will all turn out. Seriously, I might have deeper lines in my forehead wrinkles that induced many migraines.
Needless to day, this project has not been great for my vanity, ha!
But this post isn't about misguided guilt or forehead wrinkles, no this is about why all the ideas inspire the ways I want to live in my life! This idea of creating a special space to enjoy with my favorite people is near to my heart.
Bringing Sketch London Home
A couple years ago, my husband went to visit the UK, and spent about a week in London. With 4 young kids and living with a tight budget, we've never really traveled much. So going and exploring a completely new place was amazing, especially spending that one on one time with my husband and eating lots of yummy food. I loved that trip.
I'm not a huge sight see-er as I am a people watcher and food eater and one of the places we visited was Sketch London. This restaurant is very special because it has four separate restaurants within their building – that's my type of place!
Each dining area is decorated with it's own unique theme – also obsessed with. Also my kind of place.
And the coolest part? Their most popular room is the pink tearoom room aka the Gallery.
The Gallery is a treat to the eyes as it is for the stomach.
It's BEAUTIFUL. Don't believe me? Watch the video below…
We arrived towards the end of the Gallery's high afternoon tea experience, but my goodness friend, I enjoyed every minute and second I spent in that place. So it's no surprise that it's my muse for this whole kitchen remodel – it had all my favorite things!
Pink everything – check!
Rosey gold accents – check!
Dress codes – check!
(haha, just kidding on the tutu but I here there's a "art smart" code, read more here)
Hints of vintage vibes – check!
Art – check!
Glamour and drama – check!
Those white table clothes – check!
Cool tiled floors – check!
And sweet treats – check, check, check!
I think about this space often. It's the makings for the perfect blush kitchen, right?
And you know, I kiiiiiinda like pink, kinda… as seen here, here, here.
YES. I needed to bring this touch home.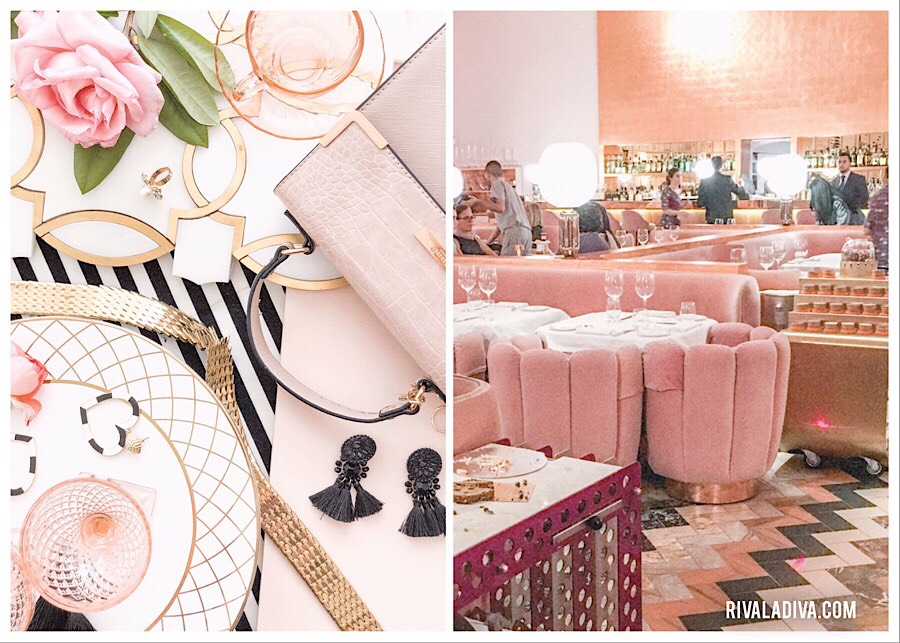 4 Easy Sketch London Decor Ideas that You Can Try
After combining all my must haves inspos from the Gallery at Sketch, I narrowed it down to 4 things I needed to use with Sketch as my muse and also share how I would I spin those ideas for my own space and aesthetic. Fashion plays a big part of my every day life, so bringing that concept in the room is very important – even if it's the kitchen!
It must be pink.

Not just any pink, blush pink. It's the 'couleur du jour'. Somewhere somehow, I need to bring in a lot of pink and this part is so easy – especially if you want to DIY it yourself. A can of paint can make a huuuuge difference! Here's a kitchen that did it right, zero tackiness and 100% glamorous. When I saw this, I KNEW a blush kitchen would totally work.
There's a good one HERE, too.

View this post on Instagram

Tiled flooring.

With so many wood tile trends and rustic flooring options, it's nice to have that glam feel that tile can bring and has brought to Sketch. Equally important, the black and white checkered tile has been on my wish-list – since like forever. Some way, some how, this needs to happen.

View this post on Instagram

Gold

.

It's a no brainer. Rose gold accents is much harder to locate and stay within our budget (remember, we're not rich and we have four kids) but I've always loved gold and brass detailing so this was important for me to include!

View this post on Instagram

The next was adding an element of drama

.

Pink can be a pretty youth and feminine color – many people tend to think of baby nurseries or Easter dresses. When paired with dark tones, however, like, navy, olive or black, it instantly becomes very sophisticated and elevated in style!Sketch doesn't have the sweet pink feel to it, either. There's drama, glamour and sophistication in that space. Bringing in some dark hues will be at the top of my list!

View this post on Instagram
What Happens Next?
Over the next few weeks I'm sharing this blush kitchen process and how I put this room together like,
finding the perfect pink,
learn why all checkered tiles are not created equally,
how I worked gold in this space,
and how I want to create drama with the use of an accent wall.
I AM SO EXCITED.
Come join the remodeling process while I try to bring drama and romance to a house in the suburbs! I sharing lots of up close progress on our kitchen on my stories on Instagram, @RivaLaDiva and/or Facebook at Riva La Diva!
It's been a lot of fun bringing you with me on this adventure and sharing my ideas on social media!
Until next time, have a beautiful and glamorous day!
xo/ Riva