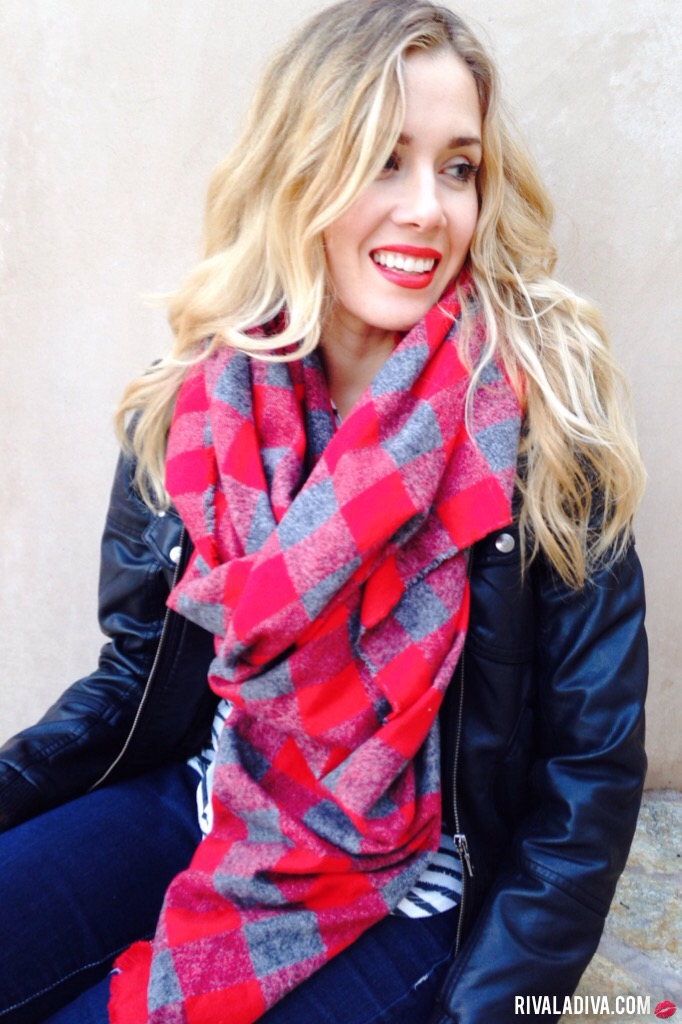 DIY Blanket Scarf Tutorial // easiest craft ever!
DIY Blanket Scarf Tutorial // easiest craft ever!
---
It's blanket scarf season and I have the best DIY tutorial for you!!
They are awesome! Warm, cozy, chic, and comfy, what's not to love?
The price.
Stores and shops are making bank off these goodies…
Did I mention they are also HUGE on the the fall runways for 2014 as seen here?
And with all the children I own, scarf money did not make the budget so I have a quick tutorial for you and a friend!
Cause caring means sharing.
It could also make a RAD future gift idea for your favorite friend, sister, mother, even boy toy…
and I don't even mean "girl quick" which actually means a lot more time, but this is seriously made in 15 minutes or less!
The best part?
No sewing, no glue, just fabric AND scissors.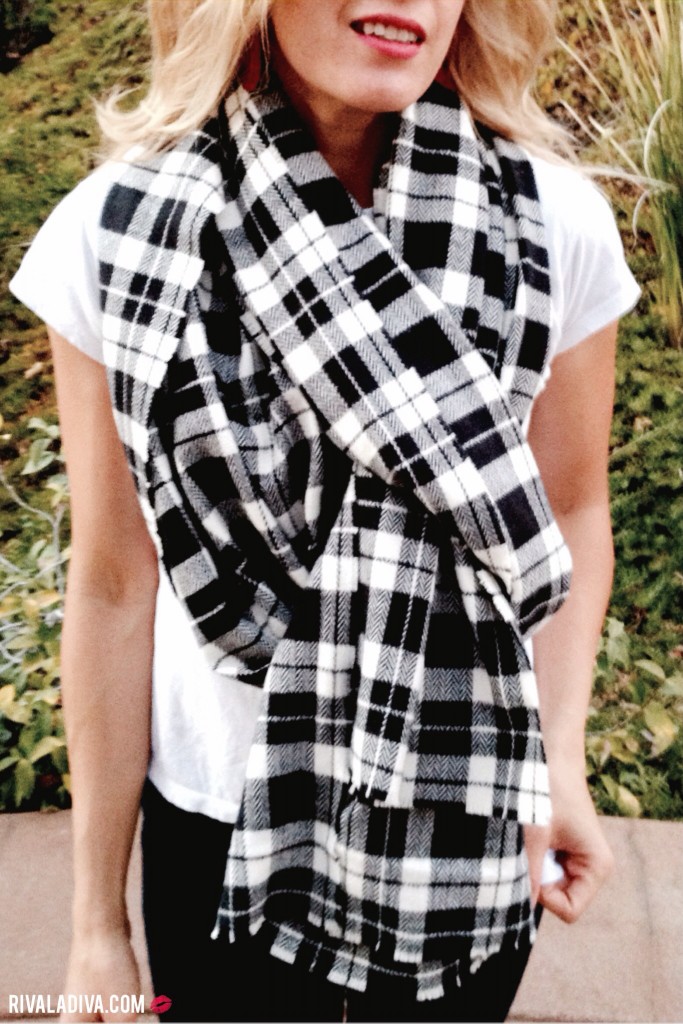 DIY Blanket Scarf tutorial
Here's what you need:
1.5 – 3 yards (I used THREE for this, see update at end of post for more scarf options) of your favorite flannel plaid/tartan
(Joann Fabrics Has a great selection HERE).
and scissors.
What to do:
Cut fabric along the center of your 3 yards. So if you got 3 yards of a 44/60″ width fabric, cut down the center of your three yards following a line in your plaid; so that afterwards you would have two 22/30″ x 108″ scarves.



Find the halfway mark and CUT ON THAT LINE.
Following the pattern of your plaid, conservatively trim the entire edge of your scarf – take very little off but still keeping the lines of the pattern even and clean.


Pull off treads along the edges of your scarf so it frays like the picture below.



It should look like this, see those frayed raw edges??





ALL sides will have those gorgeous frayed raw edges. GORGEOUS, right?

Alright my lovelies, make those scarfs and work those inner fashion runways this fall.
Shower your friends with one of the BIGGEST trends on the runway this fall, you don't even have to tell her you made it…
Until we meet again, have GLAMOROUS day!
XOXO/riva
UPDATE.
The original post called for 3 yards. After playing around with many different sizes, 1.5 – 3 yards works fabulous!
If you go 2.5 yards or shorter, you don't even have to cut the fabric in half and the shorter but wider lengths gives you a more bulkier yet glam look!
Let me show you some examples,
The Long Rectangle scarf (think trendy Zara scarf) can be worn like this: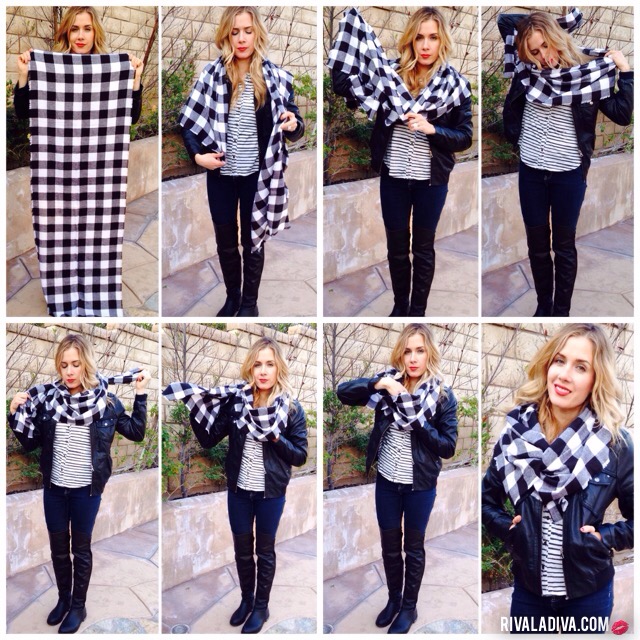 A 55 x 55 inch scarf can be tied like this: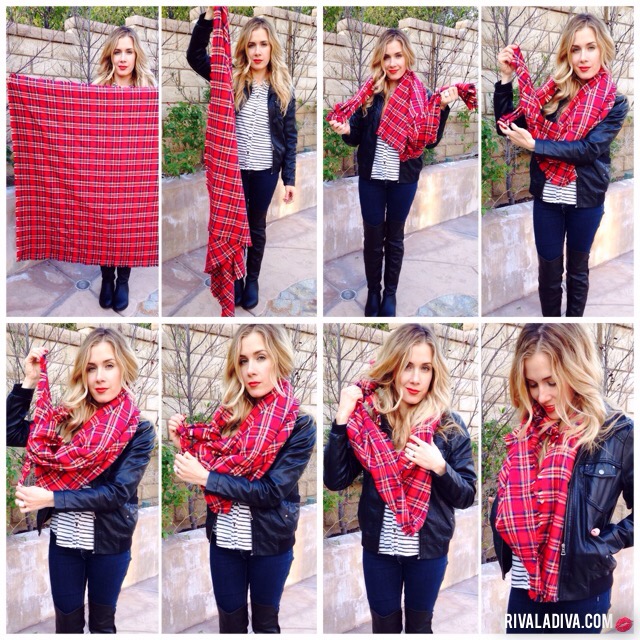 I personally LOVE just a clean cut of 2 yard flannel, no dividing/cutting in half.
I love the bulk of the extra fabric because it keeps me warm – it's seriously the BEST.
Check it out below: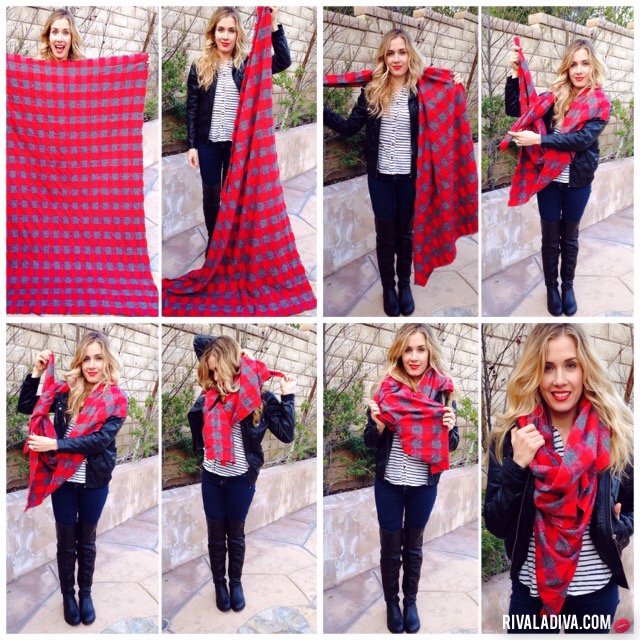 and watch the Instagram video of how I tie it HERE.
You know what?
When I'm not wearing it, I actually use it as a throw in my living room. haha!
Thanks again, so happy this has been such a popular post!
You ALL are fantastic, I appreciate the support!
12/2014  Riva xoxo
pssst! Want more scarf ideas? Check out my other tutorials:
Ultimate Blanketscarf Tutorial
Double Sided Branketscarf Tutorial
Faux Fur Scarf
Burberry Inspired Scarf