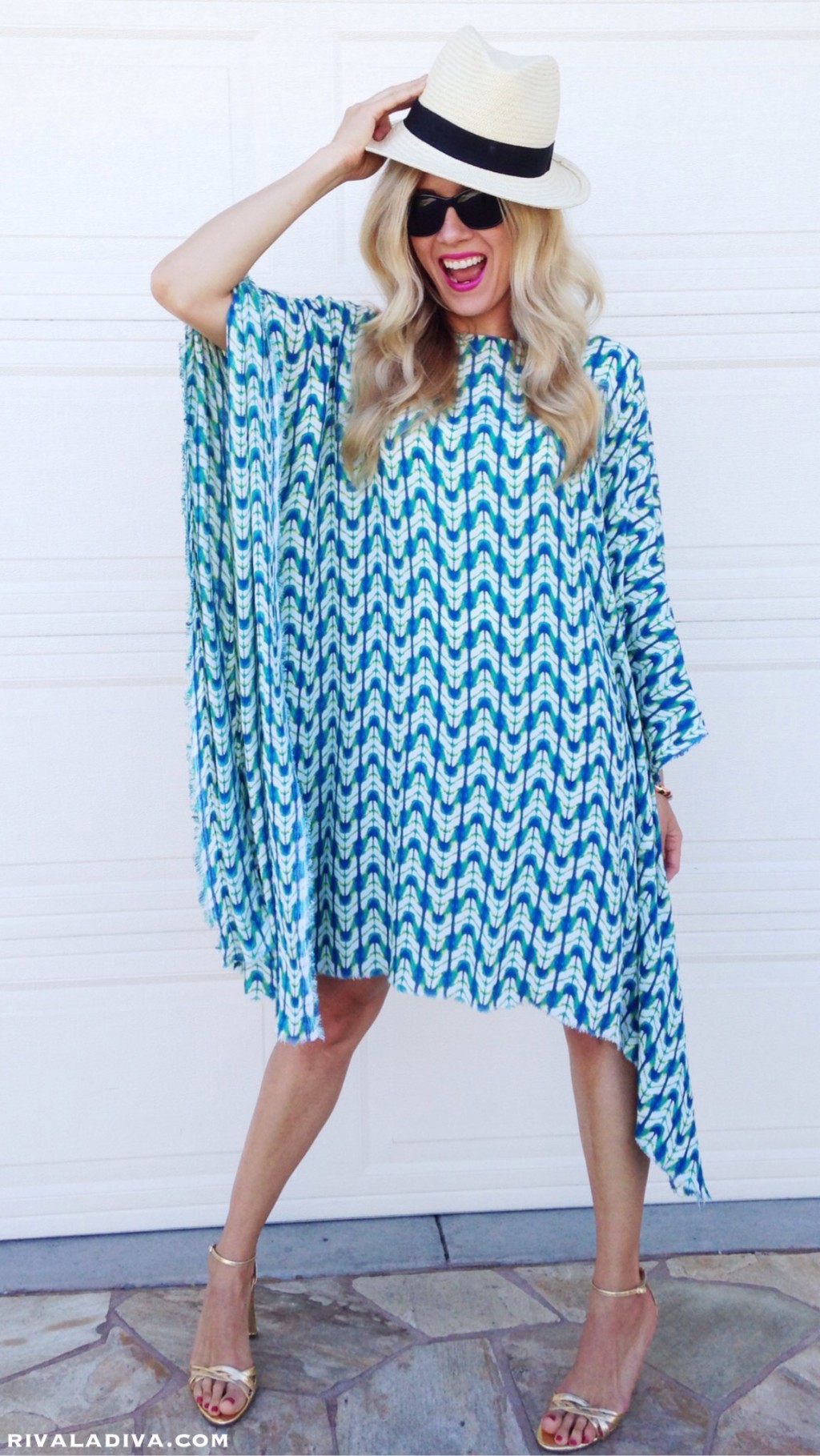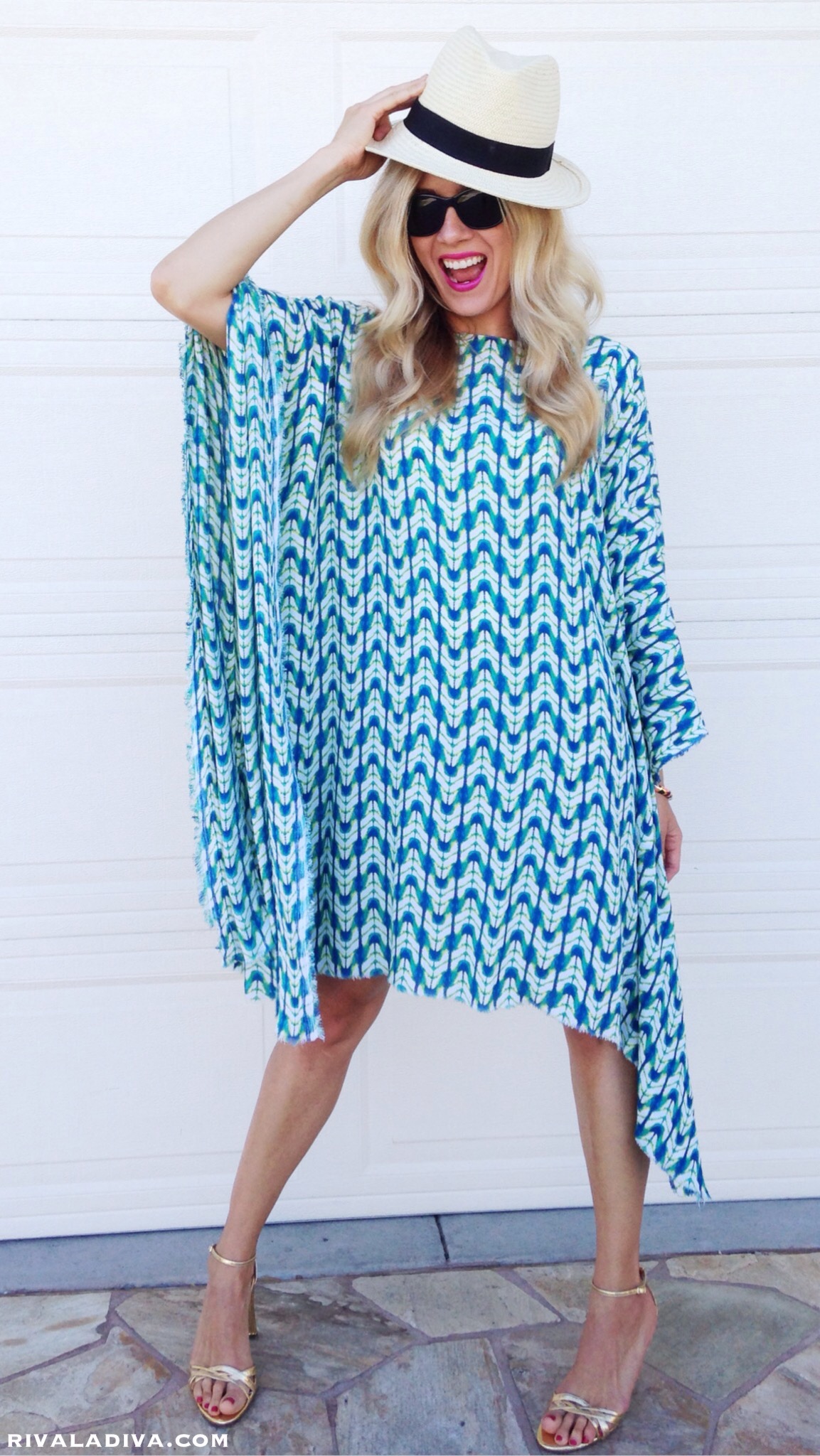 The Perfect Summer Caftan Dress Tutorial
The Perfect Summer Caftan Dress Tutorial
---
Ahh!! Monday is finally here!!
Friends, this dress is so glam and so simple to make, it been killing me to wait until Monday to share.
So, as I'm going through all of my favorite things (aka my fabric stash),
I came across some fabric that I have been dying to use.
Unfortunately, it's fabric I cannot share because I got it as a remnant from Michael Levine's, The Loft,
but never fear! Because you can seriously find any drape-y non transparent fabric where the print is easily seen from both sides will work… Need a direct link? I'll make another and post fabric info on Instagram, so make sure you subscribe to my feed! HERE, @rivaladiva.
To be honest, this fabric started out as another tutorial I have in the making… (also perfect for summer so stick around!)
but as I played with the idea for one tutorial,
it kept sparking up a new idea.
I love the creative process and the funnest part is sharing it with you!
If you don't sew or are new to sewing, this is a GREAT starter project.
But, if you know your why around a sewing machine,
be prepared to have this baby done in less than thirty minutes!
LESS if you are going for a more raw edged, bohemian styled look.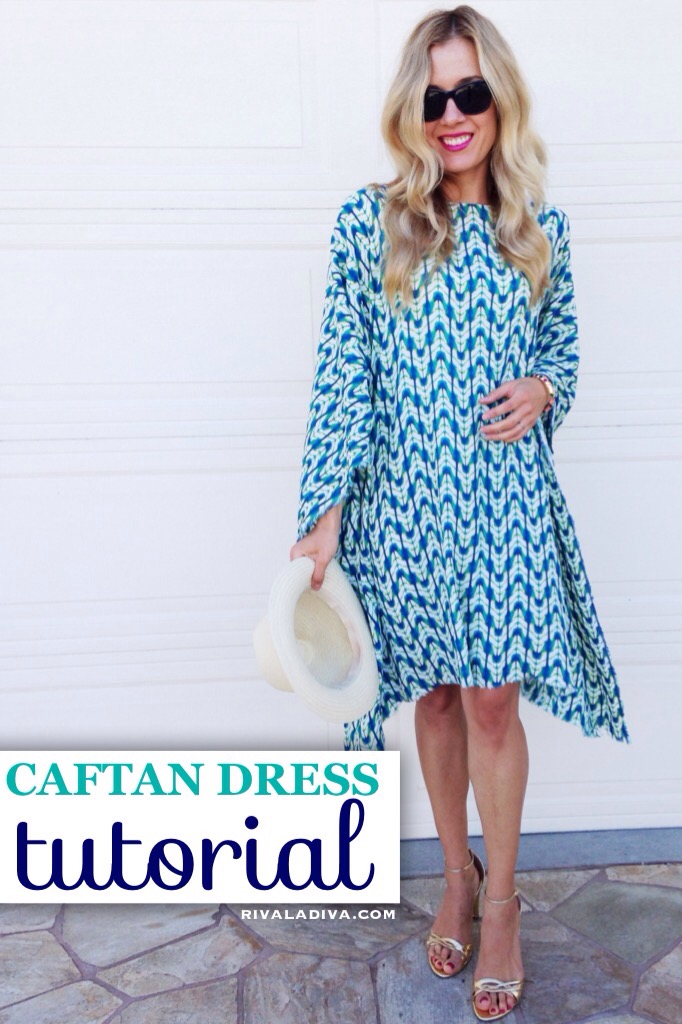 So check out the diagram below, for this EASY Caftan Dress Tutorial.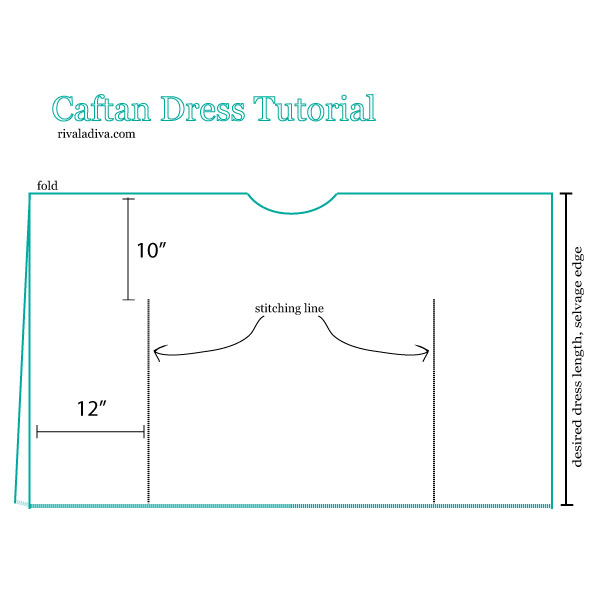 Measure desired length starting at the shoulder, double the length and by in yardage.
I got 2 yards of 54″ wide fabric.
Open fabric and fold in half lengthwise.
Measure out opening for neckline. Cut and finish neckline with a narrow rolled hem.
Measure desired distance of the bodice width, I took in 12″ from the selvage edge
and made a single straight stitch towards the neckline (fold line).
I stopped approximately 10″ below the neckline fold.
Hem all raw edges or leave edges frayed for a fun & raw look.
DONE.
Seriously, this dress is perfection.
Flirty, flowy, and fun.
Great for date night.
Awesome for long walks on the beach.
Playful enough to be around the littles.. aka totally baby proof and hip toting accessible.
I seriously cannot get enough of this caftan trend and this one is even easier than my LAST Caftan Dress inspired by Hermes.  To be honest, I haven't always been on the caftan bandwagon in recent years, but I have to admit that I'm finally ready for it and have enjoyed seeing them on the runways for this season.
I love this dress, so GO, make, sew!
xo/Riva
(PS. visit the very end of post to see how much I love it a year later)
Spreading the word one link up party at a time, you can visit the full list: HERE.
Okay! It's great!! I it's so easy to make with other fabrics – anything that is drapey, I say go for it!
Check out this perfect head piece to go with it, HERE, as seen below.


By the way, makes the perfect swim cover up if you find a dreamy transparent fabric.