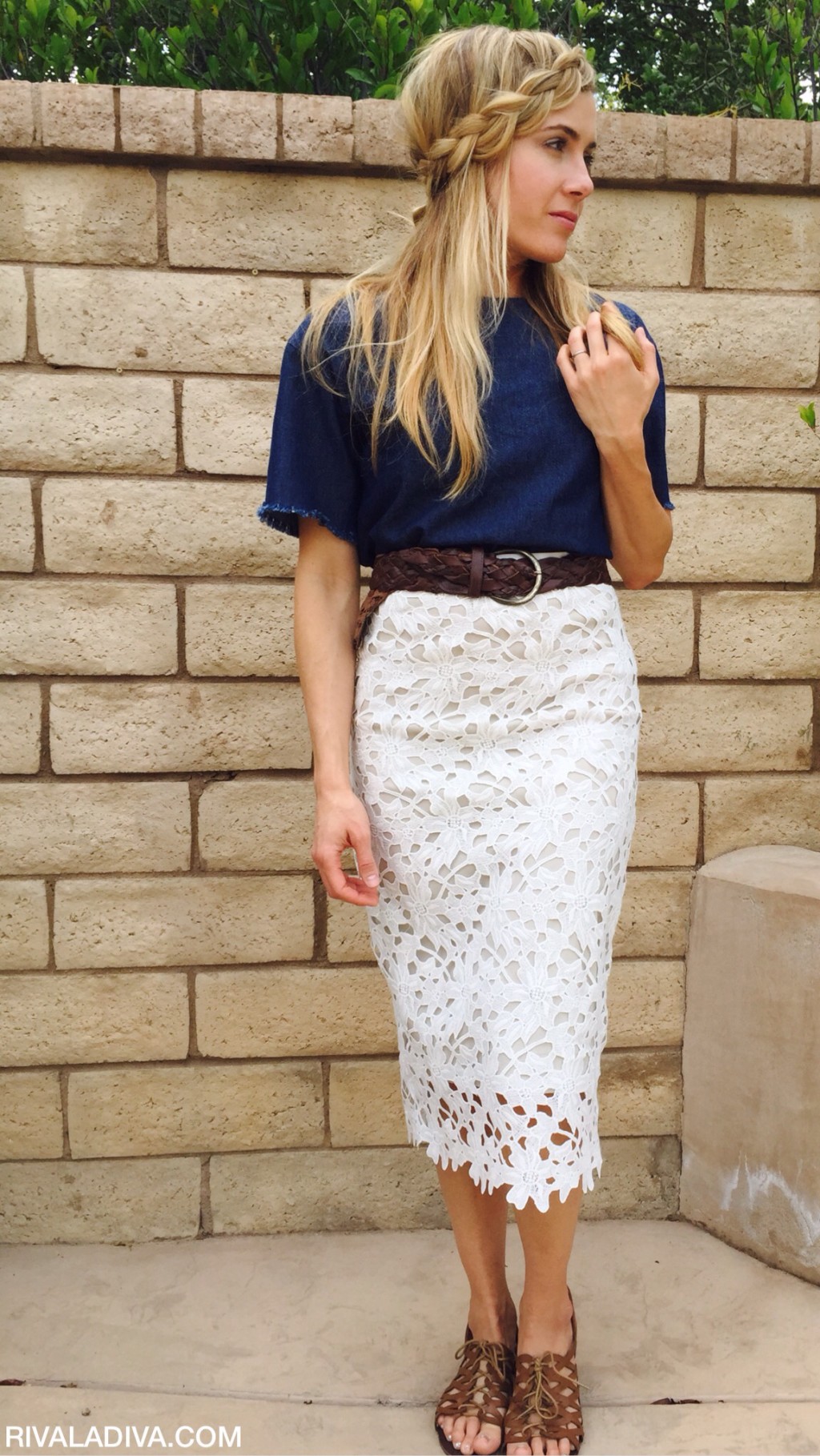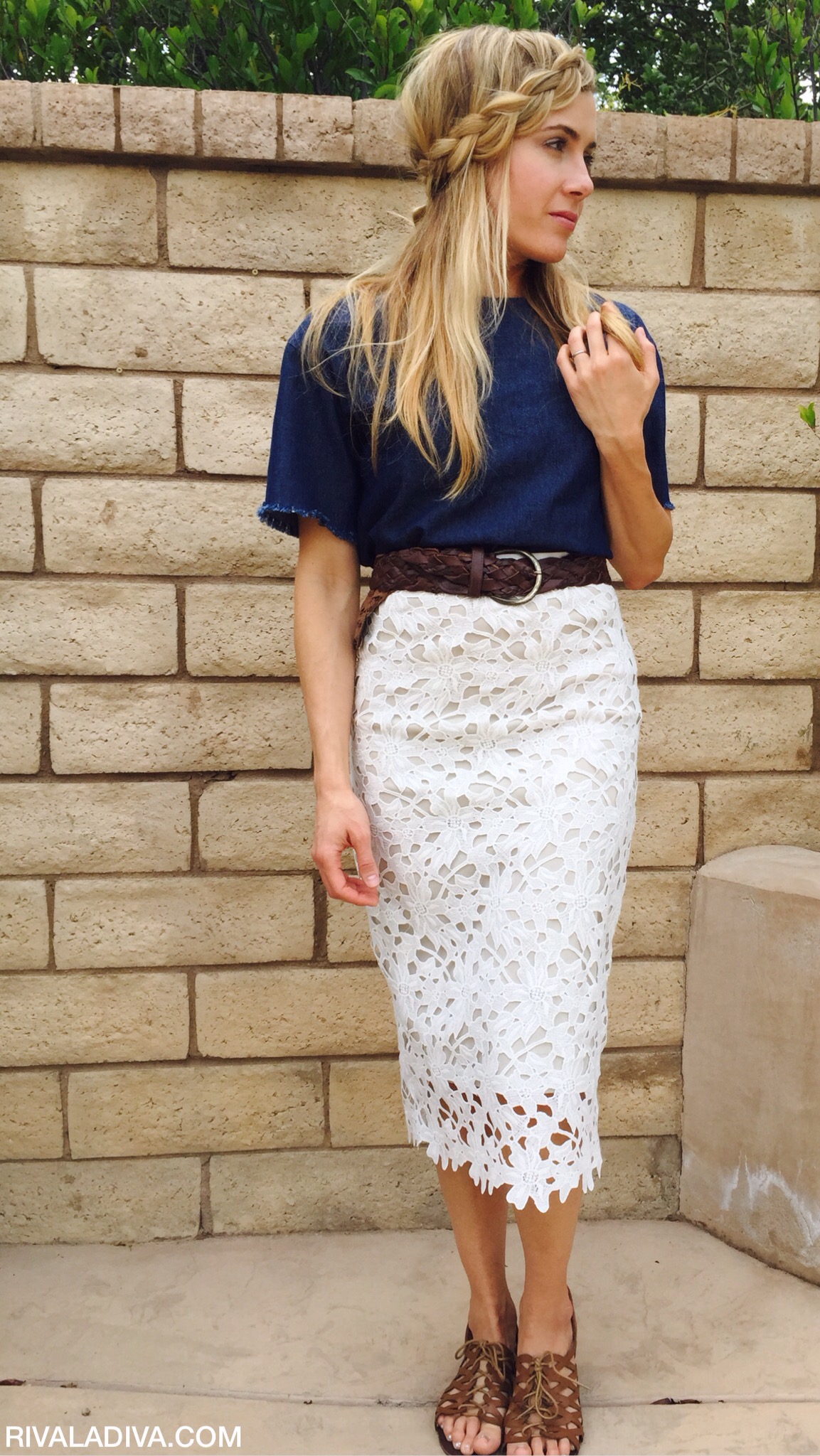 DIY Michael Kors Inspired Lace Skirt
DIY Michael Kors Inspired Lace Skirt
---
This week's post is pretty easy…
Have you noticed I always say this in my posts? ha!
Well, it's true. I like to keep things easy, because I kinda have a handful of people to nurture and dote on.
I meant what I said last week in my
DIY Juicy Couture Post
, lace is the bees knees this season!
You will find more lace inspired DIY's coming in the future and this DIY Michael Kors inspired lace skirt is pure perfection.
Michael Kors is one of my favorite American designers.
Additionally, I enjoyed watching him on Project Runway episodes and catching his
quick witted one liners
.
My husband and I LOVED when he spoke to the other designers.
My husband, who cares about NOTHING fashion related, loved Michael Kors and how relatable he seemed to be for him.
Anyways, as I was preparing this post, I was super surprised I haven't blogged about him sooner!
I am a huge fan of his quick wit but also his designs!!
EXCEPT the price tag.
Remember the handful of family members I mentioned earlier? Yeah, they need to eat.
I also changed the silhouette.
As much as I love an a-line silhouette, I am a sucker for a pencil skirt.
I also have an a line tutorial coming your way next week, so I wanted to mix up my wardrobe…
Whatever silhouette you choose, pencil or aline,
you cannot go wrong with this Joann's fabric sold by the yard,
HERE
, to recreate this look.
***This is not a sponsored post, it's just the perfect fabric to source for you!***
With that said, let's start this awesome Michael Kors Inspired Lace Skirt tutorial,
What you need to recreate Michael Kors' lace skirt,
LACE.
What really makes and brakes this look is the lace.
Not all laces are made equal and you need the right kind of lace to pull this look off.
Currently Joann Fabrics sells an amazing lace that I used for this look.
What's so amazing? The weight of the lace to recreate Michael's flower scalloped edge!
Whatever lace you find, make sure the it's a Guipure lace, aka Venice lace.
Which is coarse large-patterned lace without a net background.
gosh, I love lace talk…
PATTERN.

Simplicity 1465

has a great pencil skirt pattern to try.
Use "skirt A" but EXTEND the lace overlay by at least 5 inches, to create that midi length skirt.
Which is sooooo trendy right now.
However, if you want to go more a-line like the one seen in Michael Kors' collection,
I would try, Simplicity 1200. It's a fuller skirt AND adds no weight to the waistline just like the
one seen on the runway. I recommend "skirt C".

Nude underlay and matching liner fabric. By fabric according to pattern instructions.
Follow pattern instructions and you are DONE!
I love this look. It can easily dress up with a pair of heels and button up,
or dressed down with flat sandals for everyday.
So give it a try and let me know what you think!
xo/Riva
ps. Like the top? I have a tutorial for that Denim Top, too! Click here.
Linking up here:
Links A La Mode, 
Walking In Memphis in High Heels, I do deClaire, Myriad Musings, Dallas Style, Tip Junkie, Style Elixir, Reason to Dress, Naptime Creations, Lou Lou Girls, Mabey She Made It, 
Skip to My Lou, VMG 206, My Girlish Whims, Sydney Fashion Hunter, The Pleated Poppy, Get Your Pretty On, Tucker Up, Cappuccino and Fashion, Shopping My Closet, Pastries, Pumps, and Pi, Dressing Dallas, Pumps and Push Ups, Book of Leisure , Classy Yet Trendy , Lisa a la Mode, Sweet Parrish Blog, Vintage Gwen, The Happy Housie, Ginger Snap Crafts, the diy dreamer, BD Design, Mix and Match Fashion, Curly Crafty Mom, The Red Closet Diary, Sincerely Jenna Marie, Fashionably Employed, Style Elixir, Craft Dictator, Penniless Socialite, The Grits Blog, Two Thirty Five Designs, XOXO Rebecca, Rachel the Hat, Lizzie In Lace,