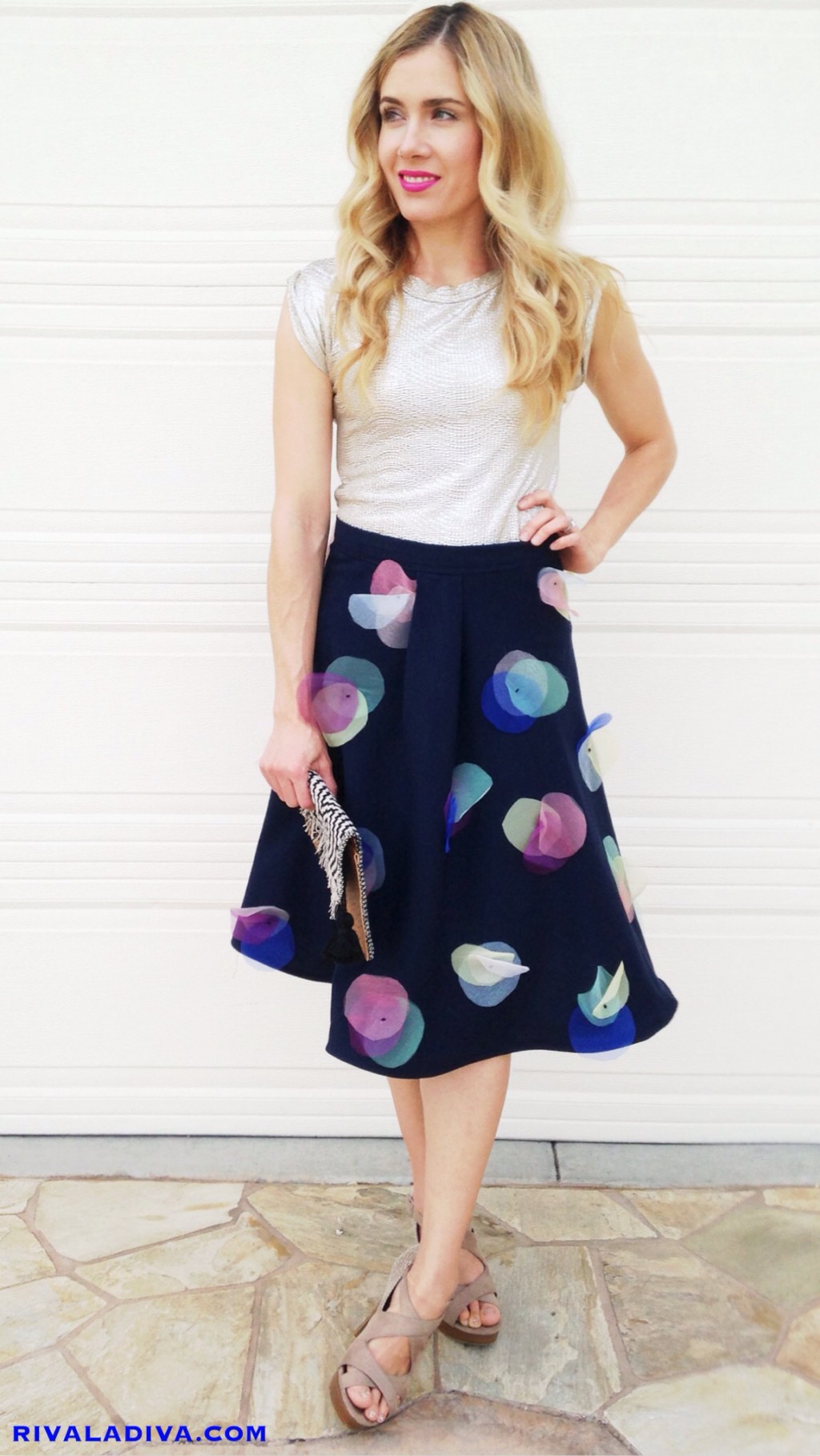 DIY Anthropologie Circlet Vida Skirt Tutorial
DIY Anthropologie Circlet Vida Skirt Tutorial
---
Last week in my DIY Michael Kors Skirt post,
I mentioned I would have a fun skirt tutorial for you,
AND I DO, and it's fun and happy looking!
why the enthusiasm?
Because June is birthday month in my house,
3 out of my four babies have birthdays in June.
Crazy how that's has happened but it did and it's a party all month long, Ha!
Can you believe next month is next week?
So with birthday party ideas flooding my brain and school coming to an end,
what better than to make this week's fashion tutorial a festive one!
With that in mind, let's get this tutorial stared!
Inspired by Rachel Antonoff's skirt at Anthropologie,
we are making this confetti fabric, circlet vida skirt this week!
Sewer or not, I have two ways to help you remake this look.
ES! You read that line correctly, this DIY Anthropologie Confetti Skirt can be made in TWO WAYS.
Make the garment from like I did below…
DRAFT YOUR PATTERN.
Skirt
This skirt was made using a simple 1/4 circle skirt pattern.
Circle skirt math starts to get confusing real quick if you are not familiar with it,
lucky for you I found this easy link that will do the math for you, HERE: CIRCLE SKIRT APP.
I choose to work in inches, 1/4 circle skirt, midi length, and BAM!
It tells you the measurements, fabric required, adds seam allowances,
then offers a link to show you how to add an invisible zipper and waistband.
Awesomeness!
I also wanted to add the little pleat they have in the center front of the Anthropologie skirt,
so I added extra inches to the side seam allowances and used that extra fabric to make a pleat in the center front.
Circles
Draft a 1.5 – 2 inch wide circle (depending on your preference).
You will use that as a guide to cut out circles for your fabric confetti.
MATERIALS.
Fabric,
I bought a navy bottom weight fabric but you can use whatever color you like,
looks great on nude as seen in Rachel's spring collection!
I used linen (from Joann Fabrics) to make my skirt but you could use satin, cotton, denim, or  whatever woven you like and think would look best!
I bought several colors of organza fabric at Joann Fabrics. Do not get this confused with chiffon.
They are two completely different fabrics. I bought a quarter of a yard in six different colors of organza,
and that was more than enough fabric I needed to make for this project.
Horse braid hem.
It's found in the notions sections of your fabric store section, you want to buy enough to  add to the hem of your skirt.
It's what gives the dress a little volume so the skirt doesn't just hang there like a dead thing in your body, it will move and bounce.
DIRECTIONS.
Cut out skirt according to web instructions,
With the extra inches you added your skirt, find your center front and make a front pleat,
Add your zipper and waistline band according to to that circle skirt app I mentioned earlier,
– Waistband directions,
– Zipper directions,
Hem your dress with horsehair braid.
Cut out your circles from the organza and randomly tack circles in groups of three different colors
all over your skirt, more or less depending how you like the look of it.
That's it! Fairly simple.
Okay, but here is option number TWO.
Need another incentive to make this?
The original skirt costs $558.00 retail.
I spent less than TWENTY DOLLARS.
So give it a try! Be the life of the party knowing you can make this skirt, save some cash, and feel AWESOME about it!
xo/Riva
Psst like the clutch? More details of this clutch is available HERE.
Spreading the word one link up party at a time, you can visit the full list: HERE. xo