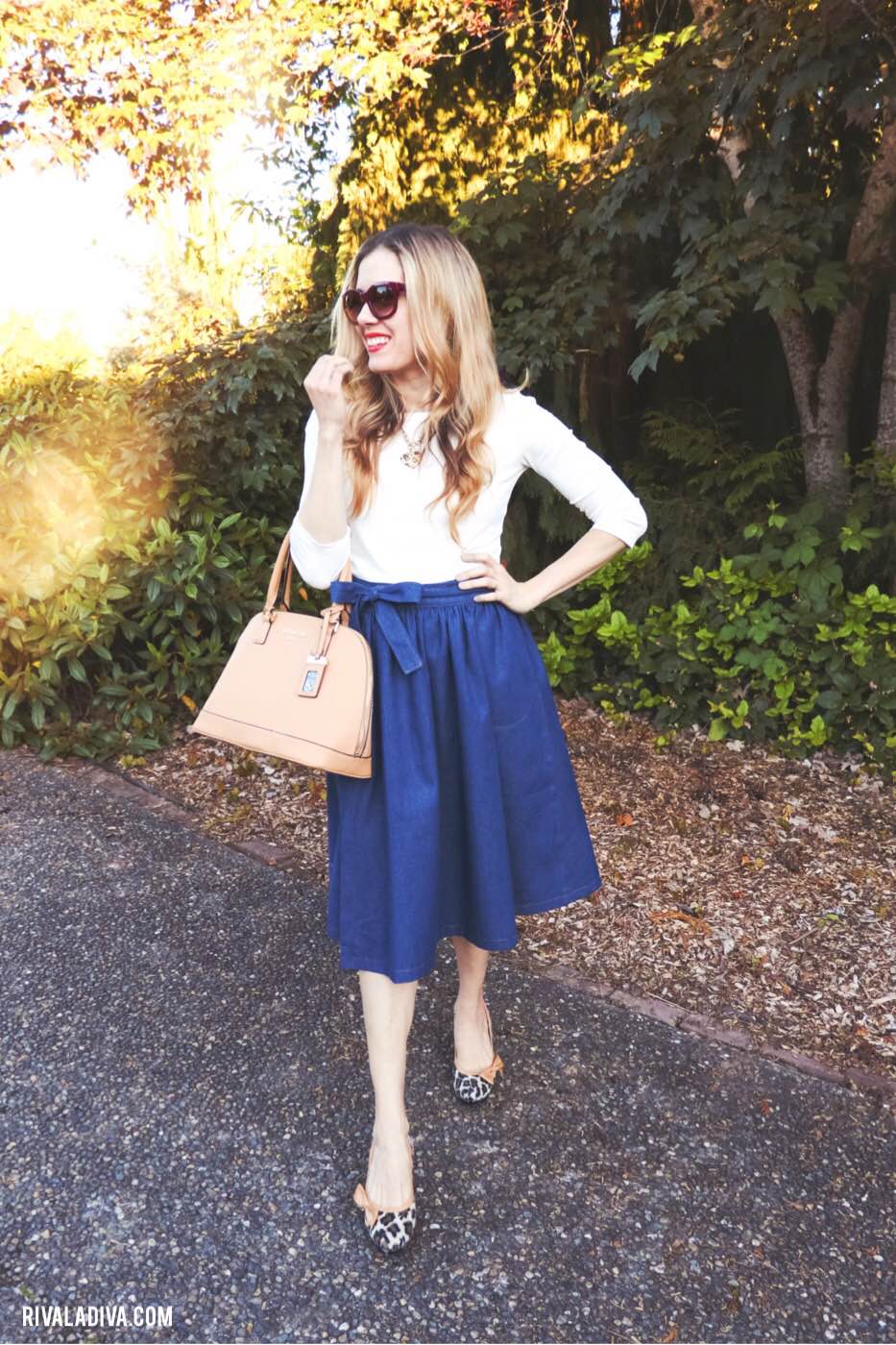 DIY Marc Jacobs inspired Wrap Denim Skirt
DIY Marc Jacobs inspired Wrap Denim Skirt
---
Denim is making huge strides in this season's trend forecast, learn to recreate this DIY Marc Jacobs inspired Wrap Denim Skirt with an easy pattern from the McCall Pattern Company and some light alterations…
Oh denim, my summertime true love, your varying shades with each wash never disappoint and unlike like your color, your coolness never fades. Can I get an amen? ha! For realsies though, like you, I'm obsessed with denim right now and even have a few future projects up my sleeve with this glorious textile (as sneak peeked here on Instagram), so when I spotted the most GORGEOUS wrap denim skirt from Marc Jacobs – I just needed to have my own. NEEEEED and let's be honest friends, Marc Jacobs makes some pretty amazing goodies (seen here).
The deep blue, the top stitch detail, and that outside-the-denim-jean-box-trend is so irresistible!
I love finding ways to bring denim in my closet in the form of a non traditional denim garment,
like denim skirts, denim dresses, denim flats (YES, SHOES), or denim blouses – ALL are wins in my book.
But if you were wanting to DIY this look yourself,
the McCall Pattern company sells a wrap dress with a skirt part that is very similar to this Marc Jacobs skirt (here).
So let's get started below!!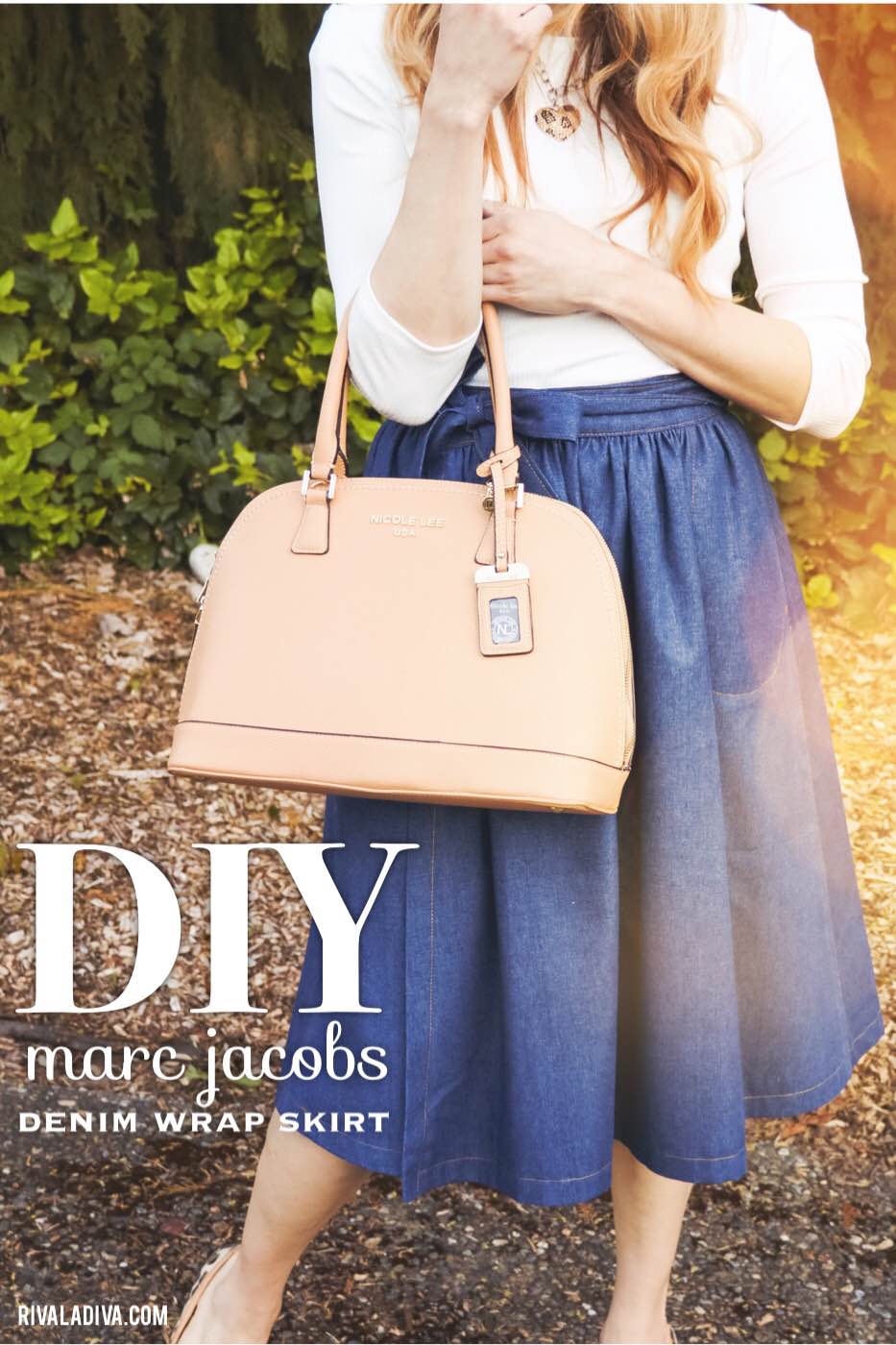 DIY Marc Jacobs inspired Wrap Denim Skirt
Materials
Denim Fabric, I bought a yard more to adjust the length of the original skirt.
Directions
Cut out the skirt pattern from dress D.
Extend the length of the skirt by 10″.
Cut fabric.
Create pockets, easy tutorial here.
I also made these pockets larger than the recommended hand-size shape.
Topstitch into place.
Continue to sew skirt according to dress/skirt instructions.
Denim is always a great look and I love how versatile it can be from look to look.
This once – farm life staple – has changed much over the years and I appreciate the adaptability it brings to an ensemble.
With this particular piece, I love knowing that with the right accessories, I can make this look more formal or less casual.
A great transitioning piece for sure!!
Just like this denim look, this gorgeous nude, Kiley Dome Bag from Nicole Lee (seen here) almost has the same magic powers!
Heels and a girlie skirt or frayed jeans and a graphic tee, it's a really fun piece to own because it looks great with almost ANYTHING.
I also appreciate the design details of this particular bag, the leather is soft to the touch that you would NEVER know that this was a peta-approved VEGAN leather bag. I've loved wearing Nicole Lee's dome bags in the past (as seen here, Brielle Dome Bag) because the shape is so different and incredibly chic compared to other bags we typically find in the the same, boring rectangle shape, ya know?
Thanks so much for stopping by and visiting this post, I'm so lucky to to get your feedback from loyal and first time readers – even first time DIY-ers! You inspire me!
xo/Riva
ON ME:
Purse – Nicole Lee Kiley Dome Bag
Top – McCall Pattern M6964
RivaLaDiva.com occasionally receives vendor/ brand sponsorships for mentioning their products and services, however, all thoughts and opinions are my own.
Spreading the word one link up at a time, you can visit the full list: HERE.