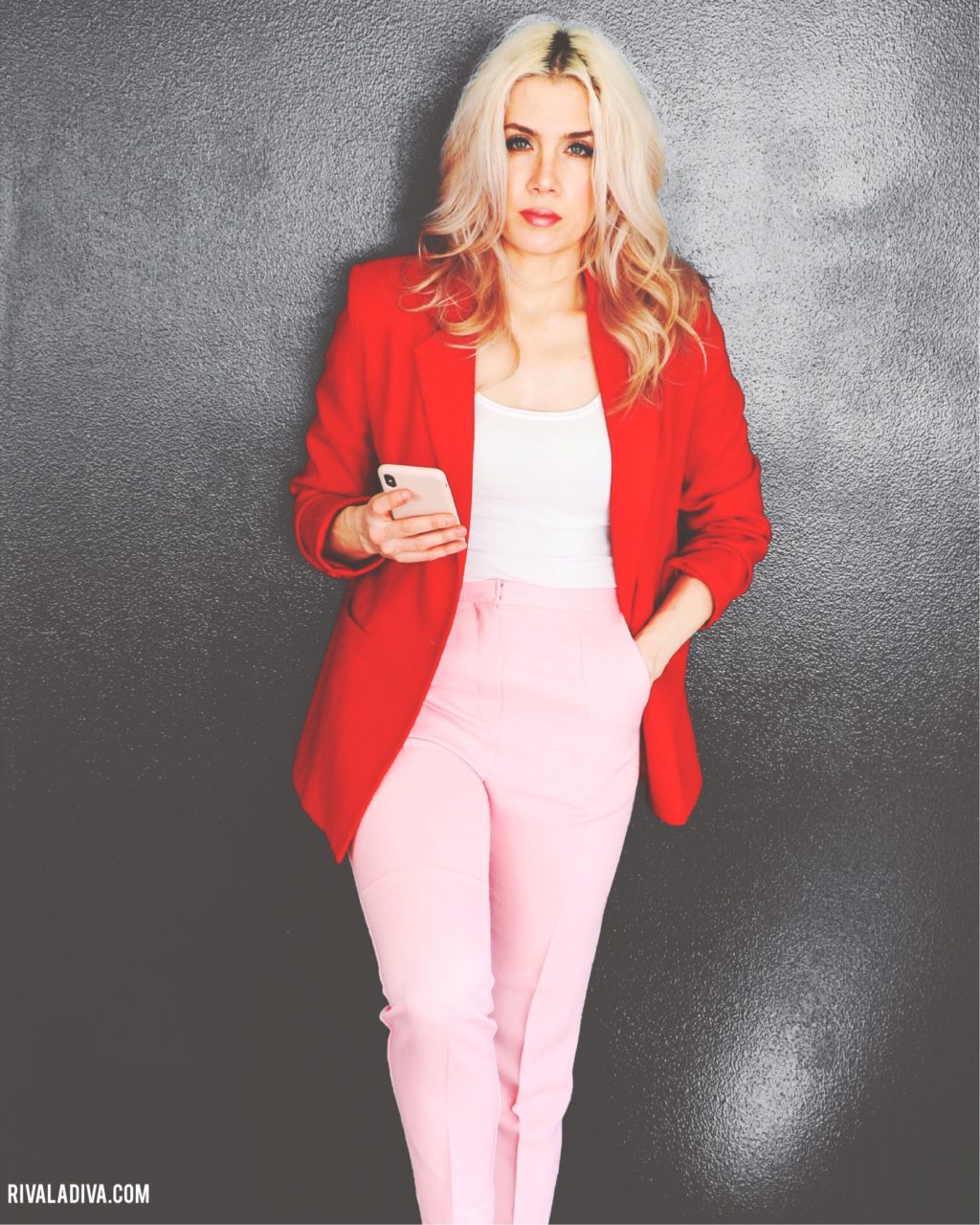 The Perfectly Pink Palmer/Pletsch Pant, McCall's M6901
The Perfectly Pink Palmer/Pletsch Pant, McCall's M6901
---
One me: Hair: Beachwaver, Lips: Riva La Diva Lips , Pant: McCall's Palmer/Pletsch M6901, Fabric: thrifted 
Allow me to introduce the Perfectly Pink Palmer/Pletsch Pant, can you say that three times faaaassssst? ha!
This week's look is inspired by my favorite current color combo, red + pink. I'm obsessed with color blocking – especially when red and pink is involved. Whether it be bright red with a soft pink, a Barbie pink or neon. It works. I have been watching this trend since last spring and I am a complete sucker for it.
I remember this color combo as a youth and as a young adult, I shuddered at the absurdity of such a pair. But here we are, embracing all rosy tones and never looking back! To this day, my mom still shudders at the combo with disbelief – ha! Sorry mom.
Okay, this is actually a special pattern for me because I got my initial tissue fitting of this pant with Pati Palmer herself. THE Pati Palmer that designed this pattern! At her house! In her sewing office! In the flesh! And the entire time, I was thinking "this is better than Disneyland". True story, she is the coolest and she knows her stuff!
If you haven't tried tissue fitting, it's a big game changer. So many fitting issues can be resolved when you practice tissue fitting and I am soooo excited for her updated book, The Palmer Pletsch Complete Guide to Fitting, to be released this fall! You might even recognize a familiar face in the book… ahem… someone just as striking as the pictures above….
Back to the McCall's M6901 pant, it's a great little pattern. I always feel like I have a weird body so understanding my fit needs was very interesting and I learned sooo much! I have made plenty of pants but I have never made a fitted pant before, learning to fit myself was an awesome experience. The only alterations I made to this pant was making it even more fitted than the current pattern. I wanted a more tapered leg at the hem so balancing that with pant width at the hips was insightful. I look forward to make more in the future!
If you decide to give this a try, share it with me on Instagram, @RivaLaDiva and/or give me a shout out on Facebook at Riva La Diva. I would love to hear from you and celebrate with you on your newest creation!
Alright lovelies, I'm off to my sew room to work on some more magic. Have a glamorous day!
xo/ Riva