DIY Restoration Hardware Farmhouse Table
DIY Restoration Hardware Farmhouse Table
---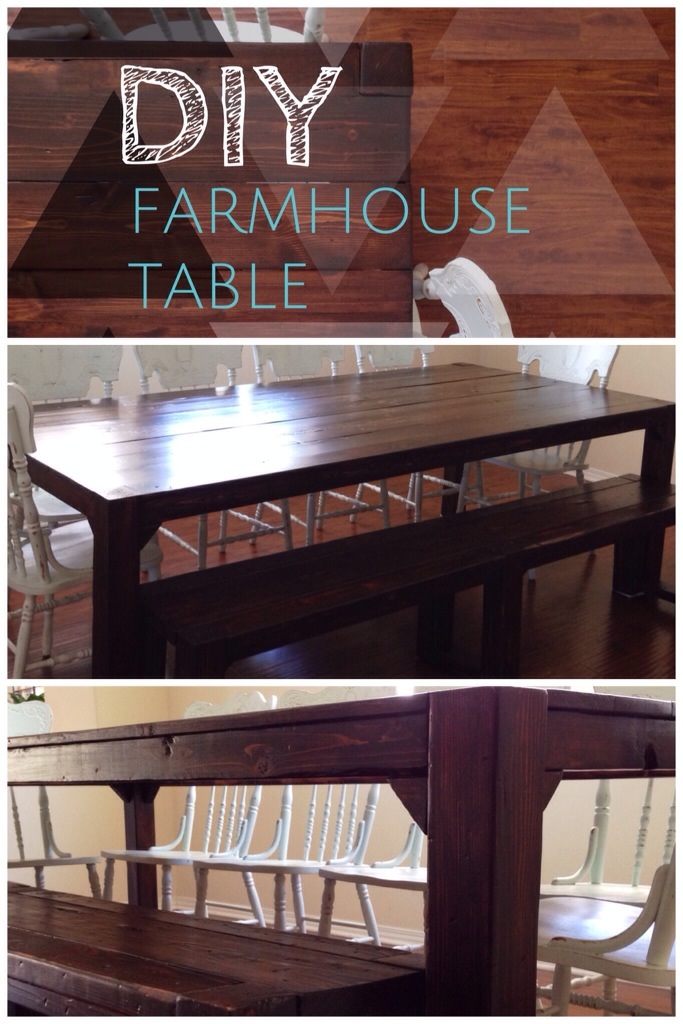 I love Restoration Hardware and i wish i could afford the real thing but I cannot, so here's an easy DIY Restoration Hardware Farmhouse Table idea with plans to get the look you want for a fraction of the cost!
Throw back to last year when I found this way chic table at Restoration Hardware, HERE.
and seriously, what's not to love about this table?
I have a similar fancy, sassy chandelier and I love the contrast of the table shown at Restoration Hardware.
Hard meets soft.
Très chic, no?
But the price tag is a bit steep for moi,
I have, like, a million kids, remember?
So… as I am a huge fan of Ana White and her amazing skills – I looked for a similar plan.
AND found one, HERE.
So why am I blogging about plans for this table when you can download your own on Ana-White.com and DIY your own Restoration Hardware table?
Well, you have to remember I have a million kids and I usually hangout with other families with their millions kids and there is never enough room.
A 28″ x 58″ table is crazy small for my type of entertaining.
Go big or go home, right? (courtesy laugh here)
So I drafted new plans – I am a seamstress and can draft patterns, TOTALLY the same thing, right?
I am kidding, I really wouldn't know, but so far so good.
Anyways,
I bought the wood and got to work, and started Instagramming my progress with the hashtag, #mysawduststurdays (see last post for MORE pictures).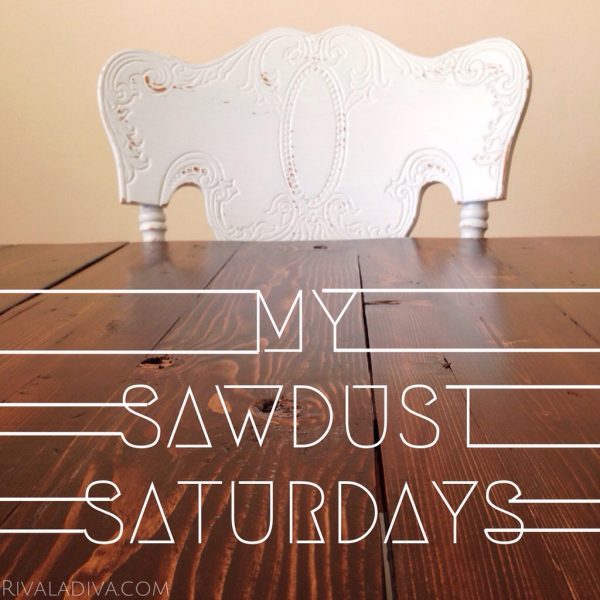 So this afternoon, I want to show you what modifications I applied to Ana's table plans to recreate this Restoration Hardware table for the needs of my entertaining career…
if only my dinners were as magical. HA!
So I needed a 4′ x 8′ table; long enough to fit a lot of people and wide enough to have different entrees at the table.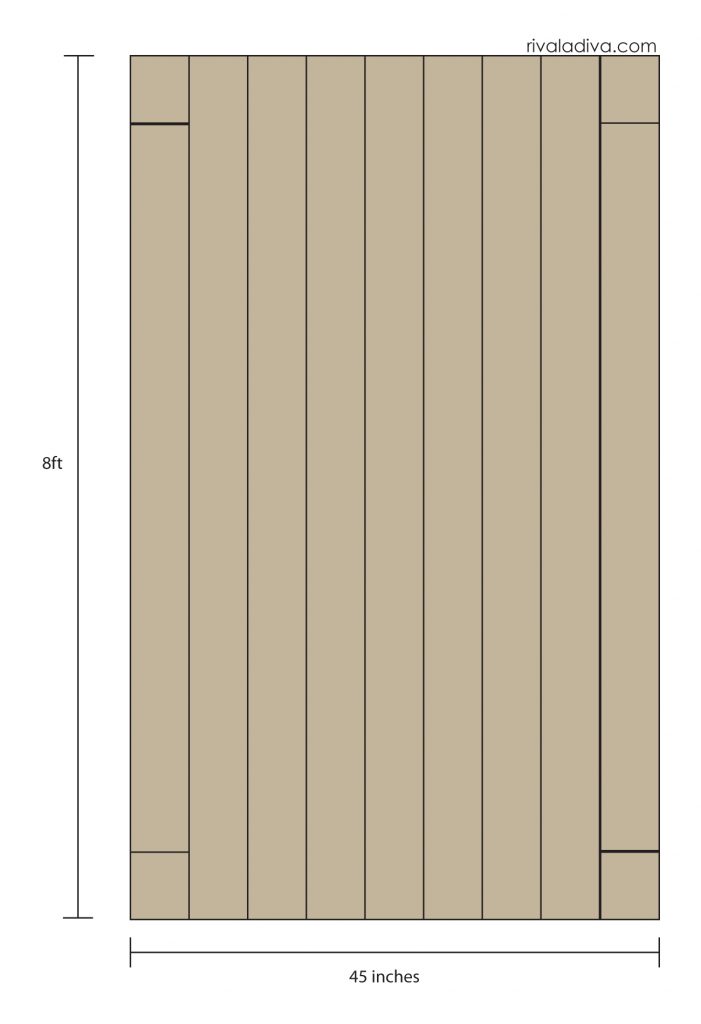 Restoration Hardware DIY.
Here is my shopping list for one table of this magnitude:
1, 10′ long 4″ x 4″ post, (table legs)
7, 1×6, 8′ or stud length wood, (table top)
2, 1×4,  8′ or stud length wood, (table top ends)
2, 2×2″, 8′ or stud length wood, (joists)
3, 2×3″, 8′ or stud length wood, (end joist and side apron)
Cut list:
10′ long 4″ x 4″ post: cut into 29 7/8″ pieces. (4 table legs)
1×4,  8′ or stud length wood: cut 2 at 89 3/4″ (table top ends)
2×2″, 8′ or stud length wood, cut at 40″ (7 joists)
2×3″, 8′ or stud length wood, cut 2 end joists at 38″ and 2 side aprons at 89 3/4″
I also cut 8 triangle with a 45 degree angle out of 2×3 leftovers.
Below are pictures that coincide with Ana Steps, 1-4.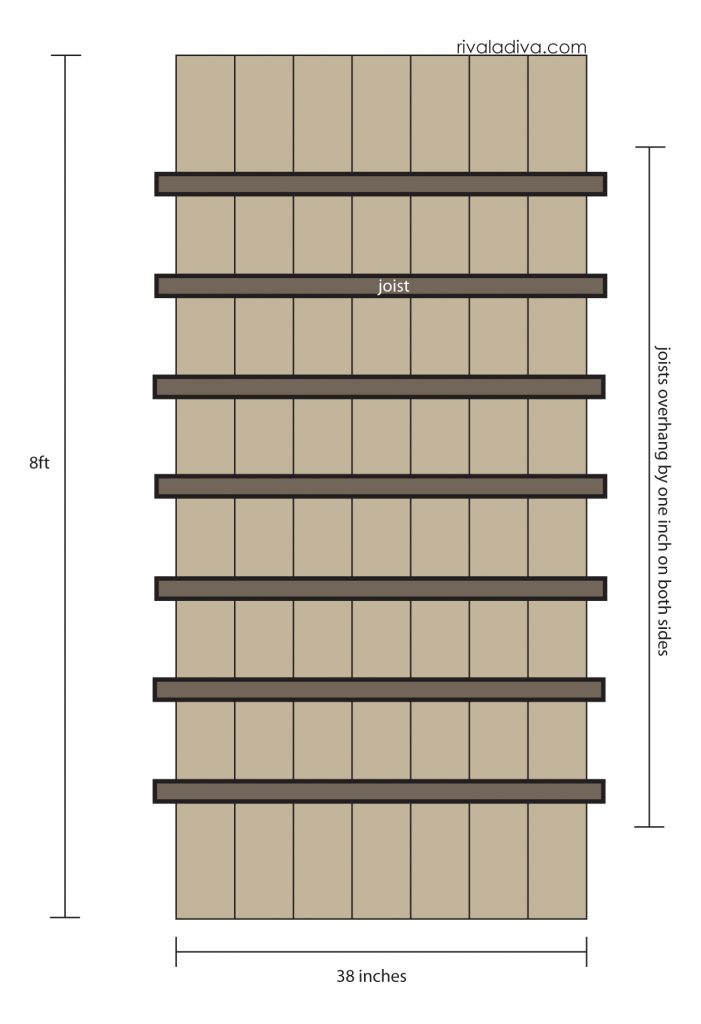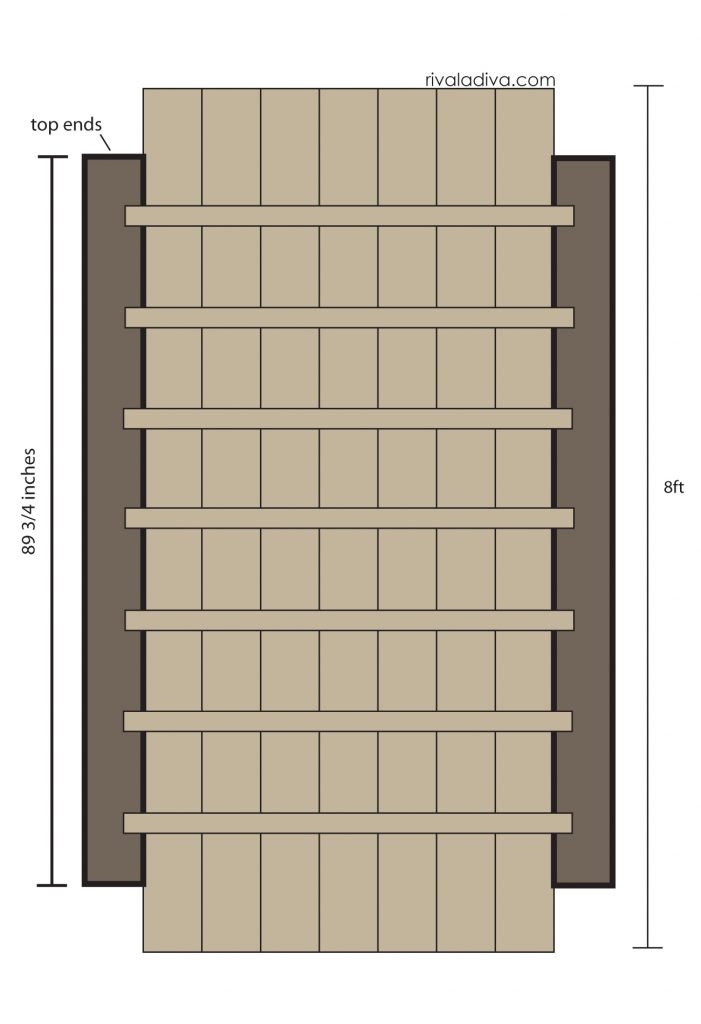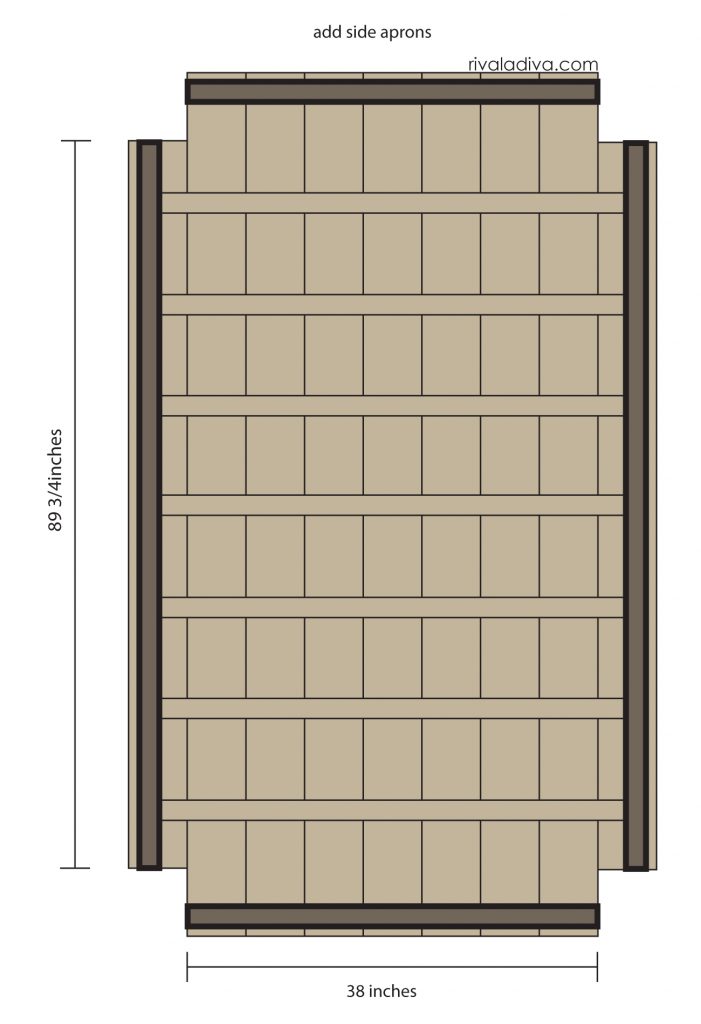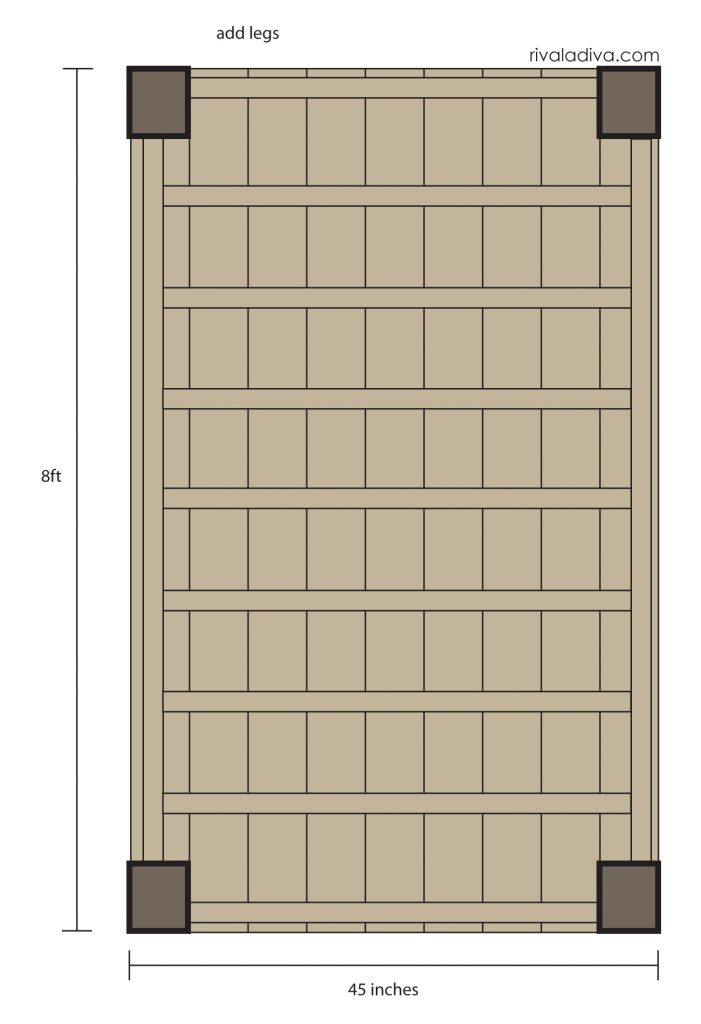 I added an additional 5th step with a decorative angle – it visually softens the joints.
Predrill holes, glue, and secure in place, use the dotted line as an example.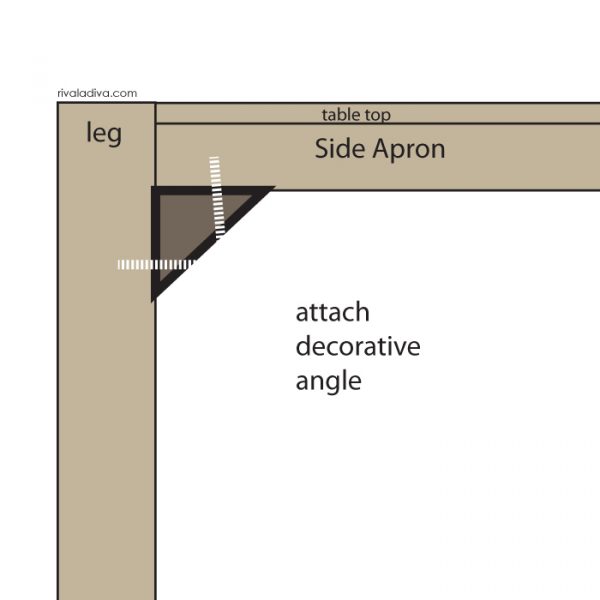 See what I mean?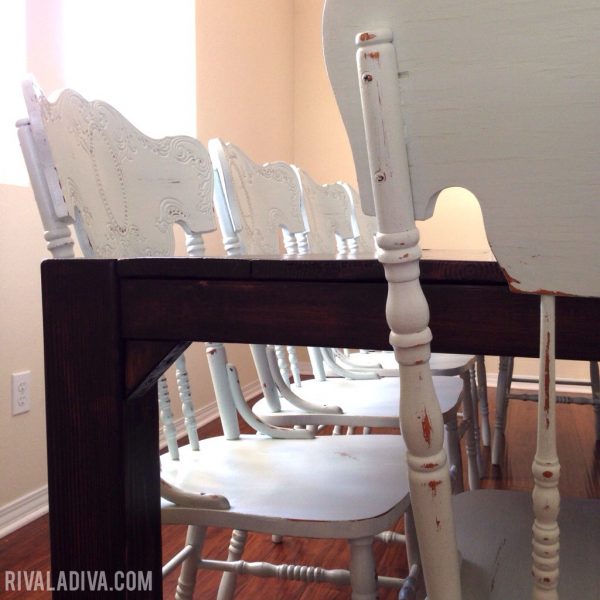 Then I made a bench which sort of follows the same instructions as the table, once you make the table, the bench can be put together in a day with no problemos!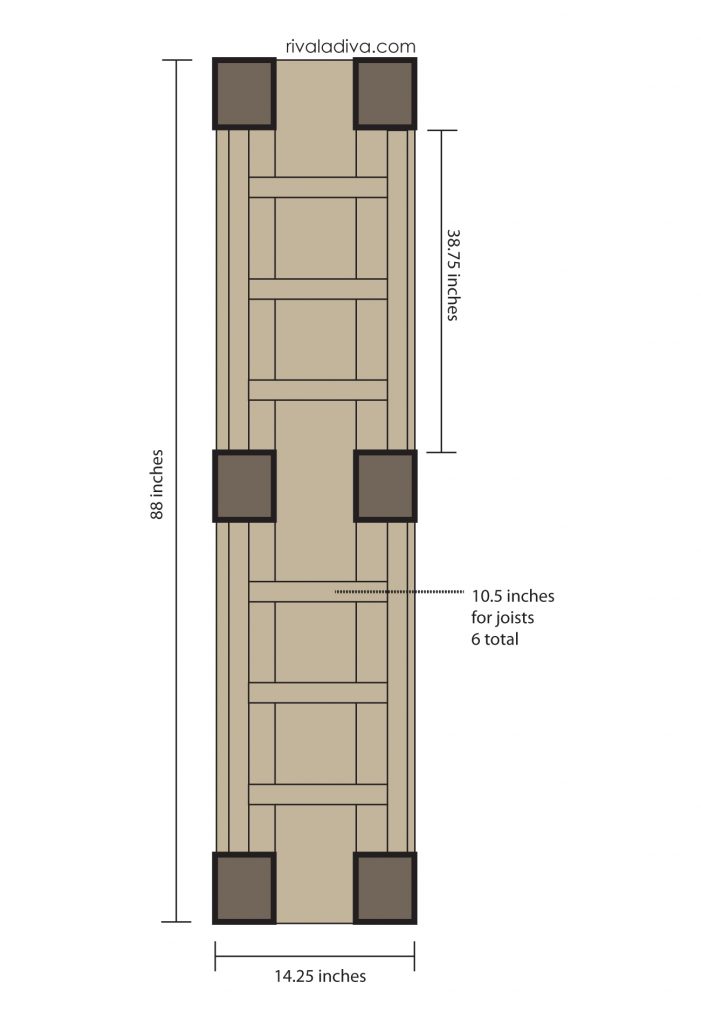 I did use an 2×8 piece of would that I probably would not do next time…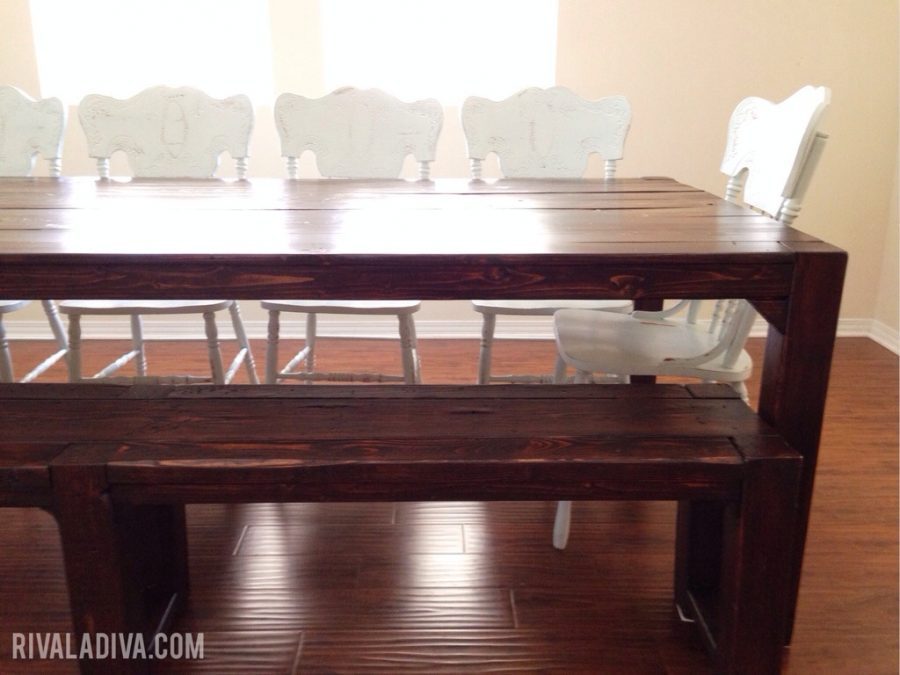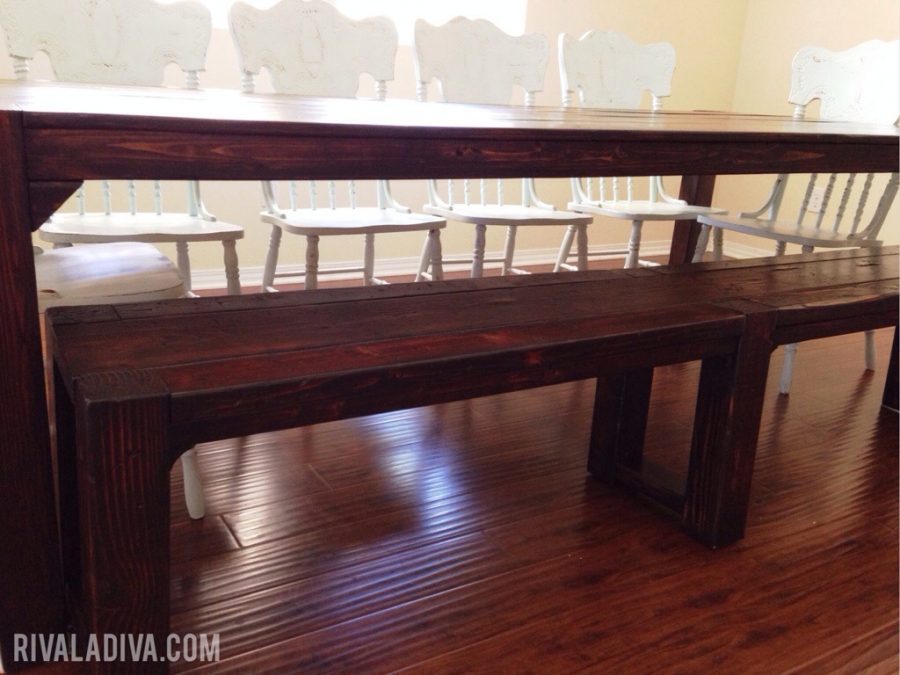 So there you have it! I know I scared my husband for a long time, I have never made anything this cool before! The broken and cracked pieces of wood I found at Lowes Home Improvement gave my husband major stress, but they turned out great and we are so pleased with how it all turned out!
I spent $84 dollars on wood alone.
AWESOME, right?
I would love to make chairs but that is a completely different project, so I ended up painting my old chairs and I love how they turned out!
Next project is the room…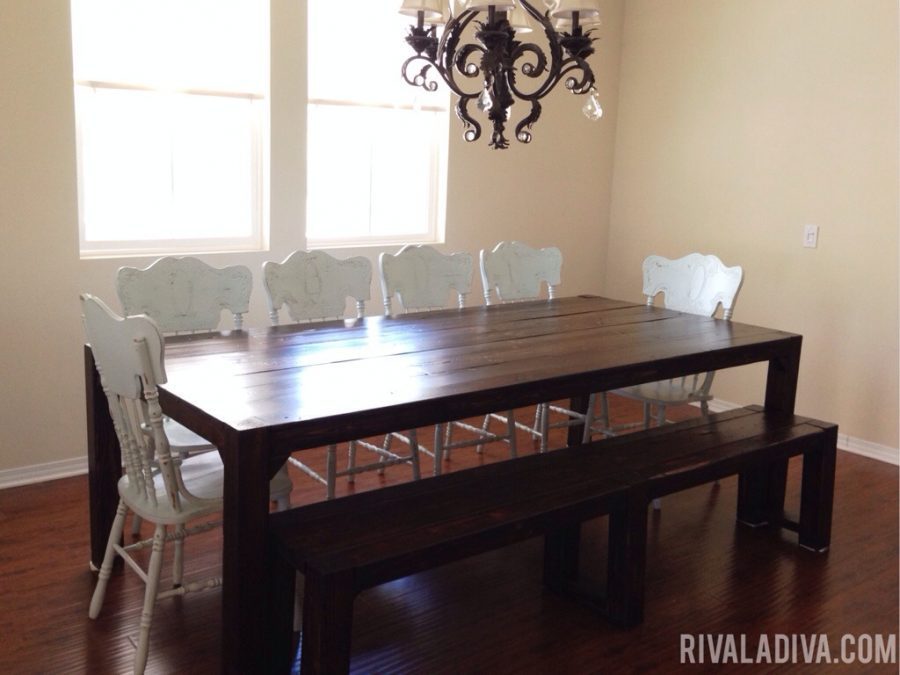 yaaaaaawwwwn.
That's my dining room in a nutshell, any tips or advice are always welcomed!
I would LOVE to hear your ideas for this space!
Check out my other social links on the side or bottom of the page, like and follow those pages to stay on top of my latest adventures and to give me some inspiration!
Thanks for visiting and have a glamorous day!
Riva
XO