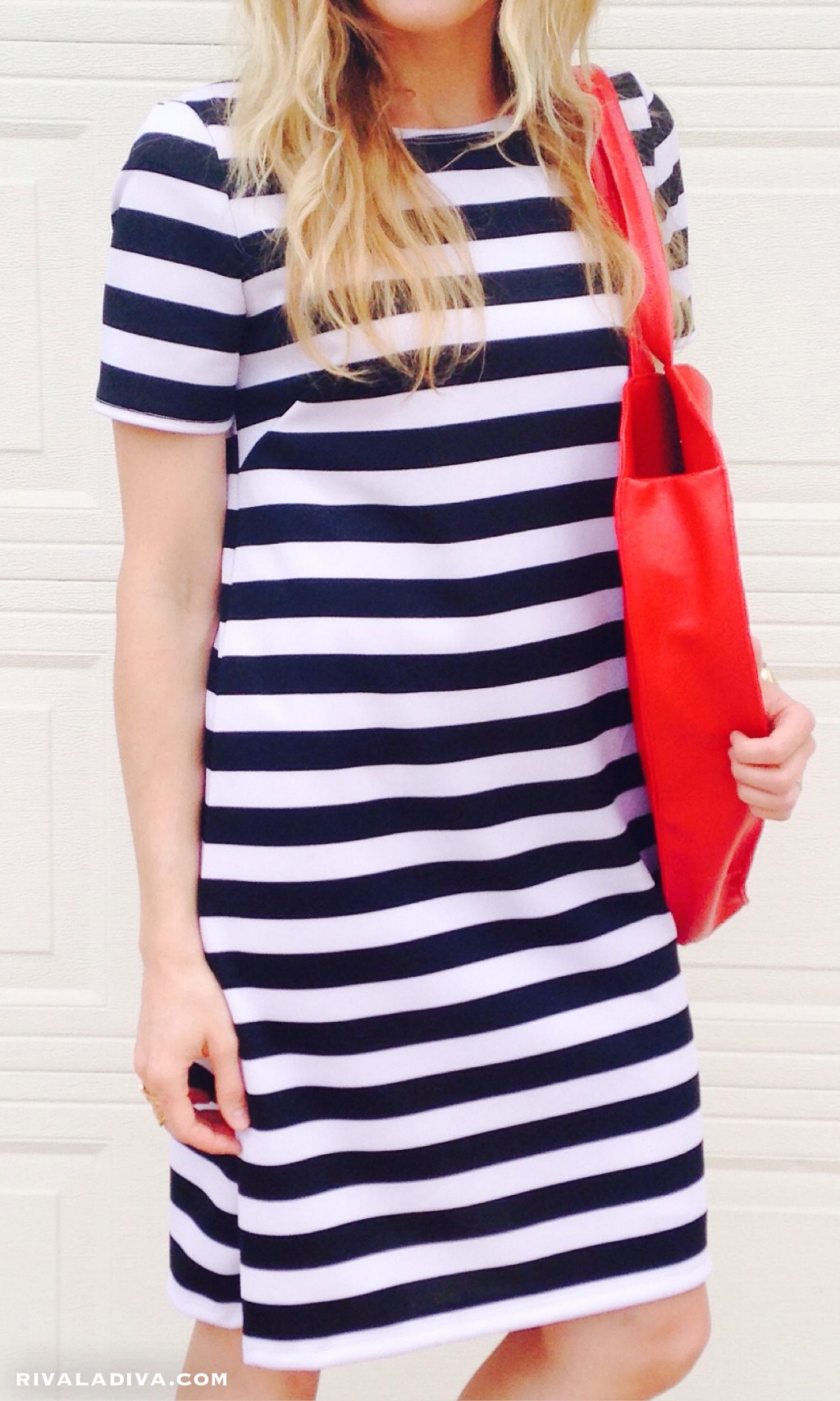 DIY Kate Spade Inspired Stripe Dress
DIY Kate Spade Inspired Stripe Dress
---
This Kate Spade fashion redo is a current favorite this week!!
Stripes are a ton of fun this season and  the best part of today's post?
it's Kate Spade inspired – so you know it's gonna be a fun!
The original dress can be found HERE; it's fantastically brilliant and classic, right?
However, the price is close to $400 in retail – no good for moi! 
Needless to say, I am so excited to share this Kate Spade inspired post with you!
If you've been sewing along with me each week, you will especially love this because the pattern we are using for this dress
is the EXACT same pattern we will use for my DIY Juicy Couture dress! Yay!
Seriously, I am loving McCall's Pattern 6465.
It's a simple silhouette that is repeatedly used almost every season.

So, to complete this DIY Kate Spade look here are some things you need to get started:
Pattern: McCall's Pattern 6465
Striped fabric:

I could not find any at a local store that I could personally recommend,
but here are some shops I found online that sell striped fabric,
some places will give you the option of obtaining a sample:
Now, I always have a small stash of fabric that I like to pull from for my posts and that's where I sourced this week's fabric selection…
and when I say small, most sewers know that is code for PILES and PILES of fabric.
I live just outside of LA and LA has an amazing and very affordable Fashion/Fabric District that I enjoying visiting as much as I can, ha!

Construction: While making the dress, matching and aligning stripes is important for a polished look.
Attention to cutting detail is key:

Match Hemlines when laying out the pattern, then won't add up as soon as you reach the front dart but that is okay,
no one will be looking under your arm pit to see if your stripes line up.
If you are familiar with the pattern from the last project, you know that this is pretty simple to whip up,
I used a knit fabric and my serger. I was able to make it in under an hour.
The cost was easily under $10 from start to finish,
that's over $300 in savings for shoes or my hair appointment this saturday! yay!
For those who are not sewers and would still love to get on this Kate Spade stripey shift dress trend, you can find similar dresses here and here.
It's a fun and easy look, right? So hopefully you can give it a try soon!
Love the matching Kate Spade bag?
I've got a tutorial for that, too! Read the full post here: Kate Spade Heart Tote.
That's also coming at you this week too, so stay close! xo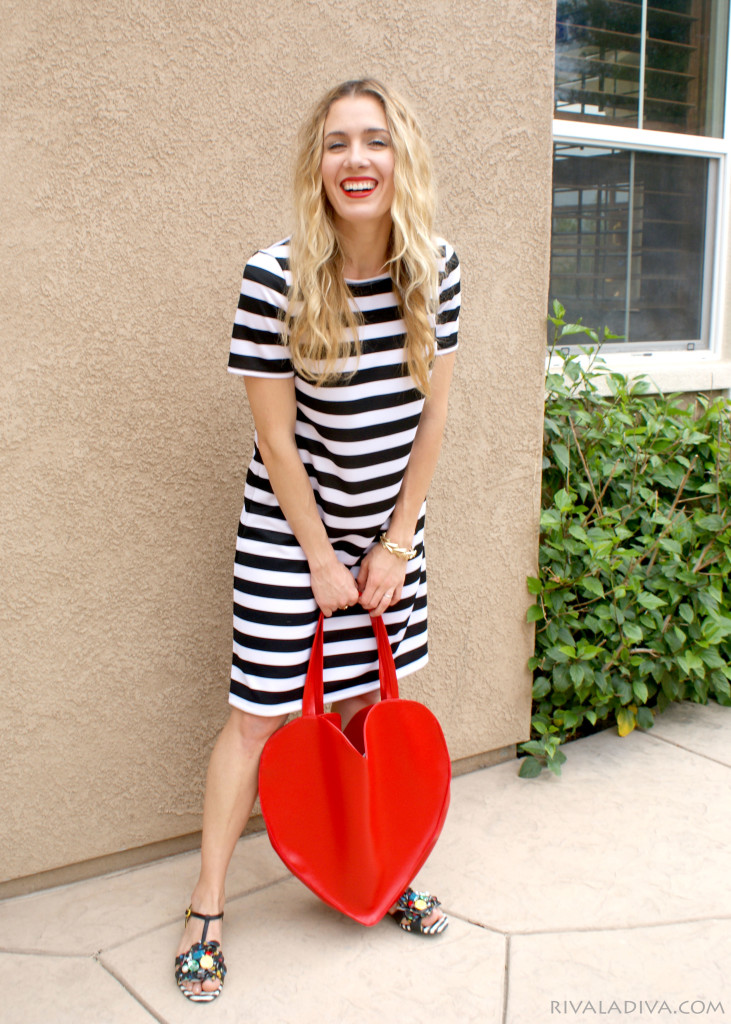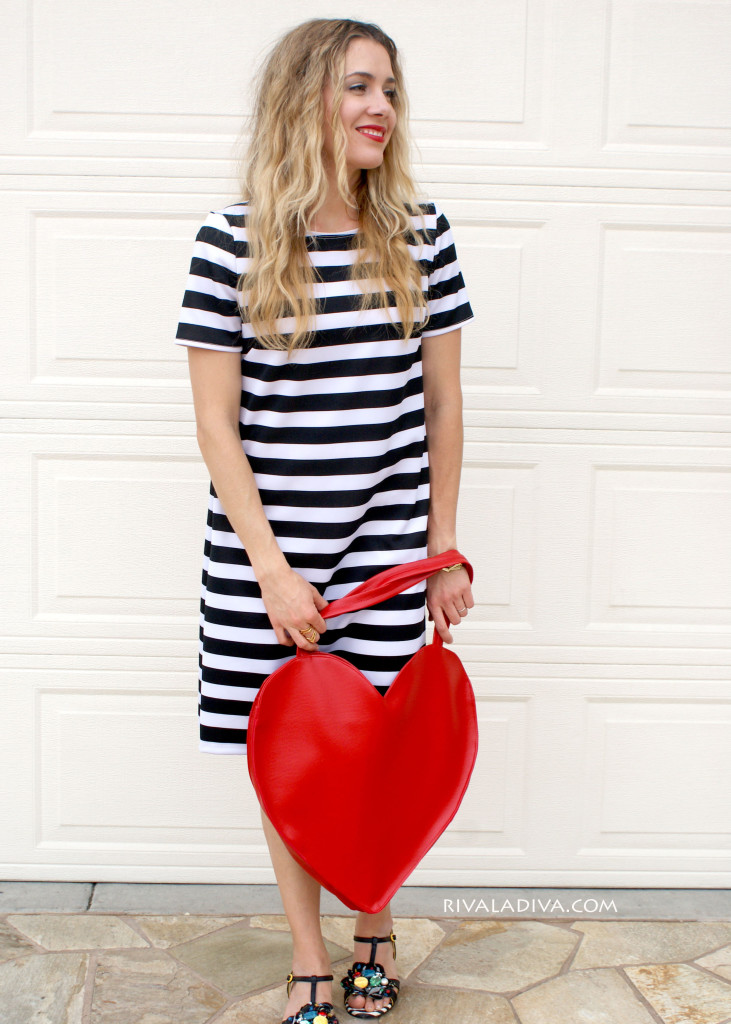 Spreading the word one link up party at a time, you can visit the full list: HERE. xo