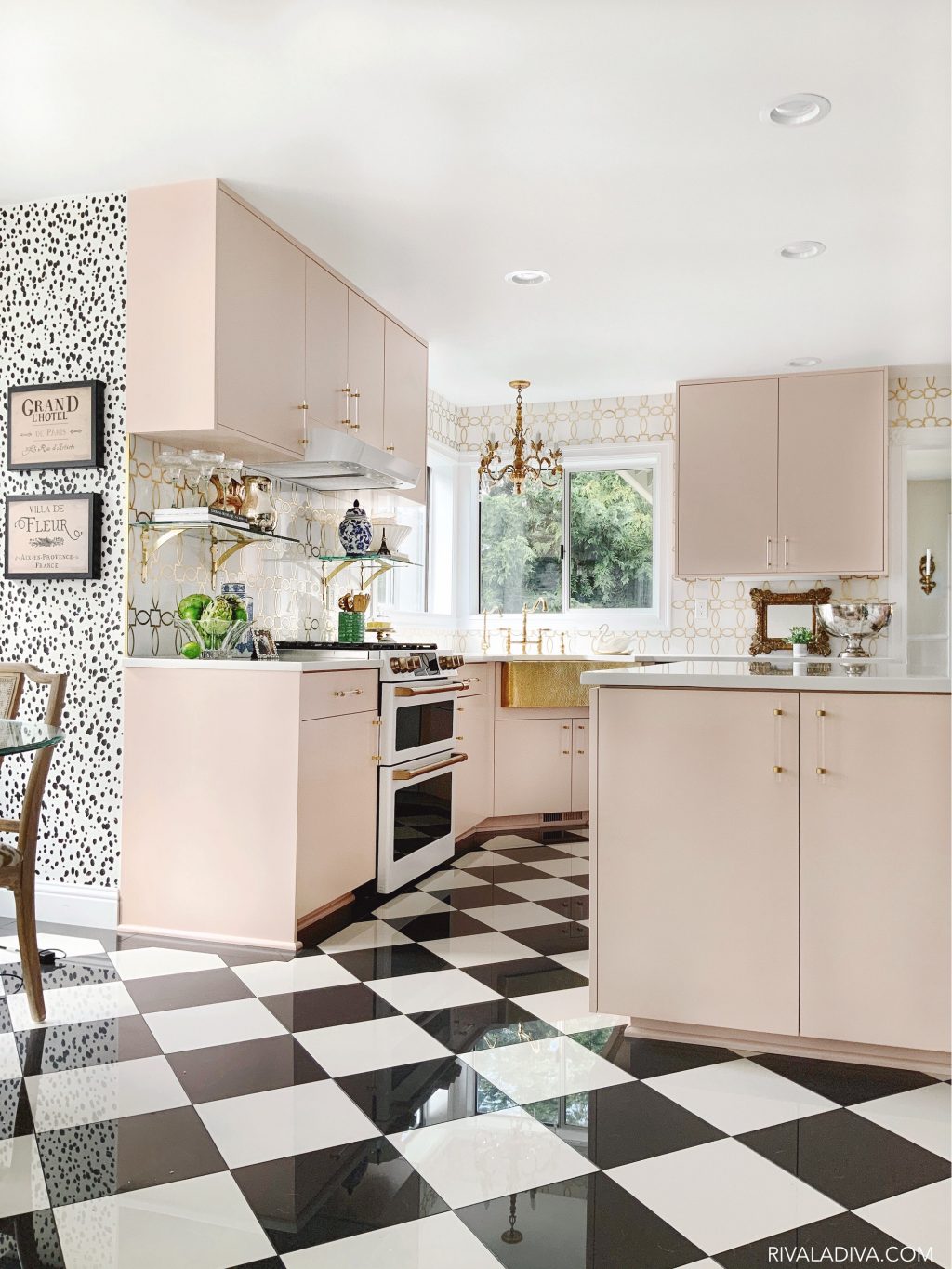 Blush Kitchen REVEAL
Blush Kitchen REVEAL
---
If you're on Instagram with me then you know I've had my sleeves rolled up finalizing the last details of my new blush kitchen and with few experiences in home design, one could say it's been an educational journey!
You read my last post and learned where I got my inspiration and why I went with BLUSH. But the rest of the room came from Dorothy Draper, have you heard of her? No? Well, go start an internet search now. She's my home style icon.
Dorothy instructed that "your home is the backdrop of your life, whether it is a palace or a one-room apartment […] It should honestly be your own—an expression of your personality." This notion kinda sounds silly to some, but like fashion, I firmly believe it correlates with where your head-space is at the moment. Trust me, I've spent years wearing elastic pants and ill-fitting shirts that cover up my emotions to prove it.
The same goes the vibes in our home that can be seen (and felt) in the chaotically clutter old kitchen photo below…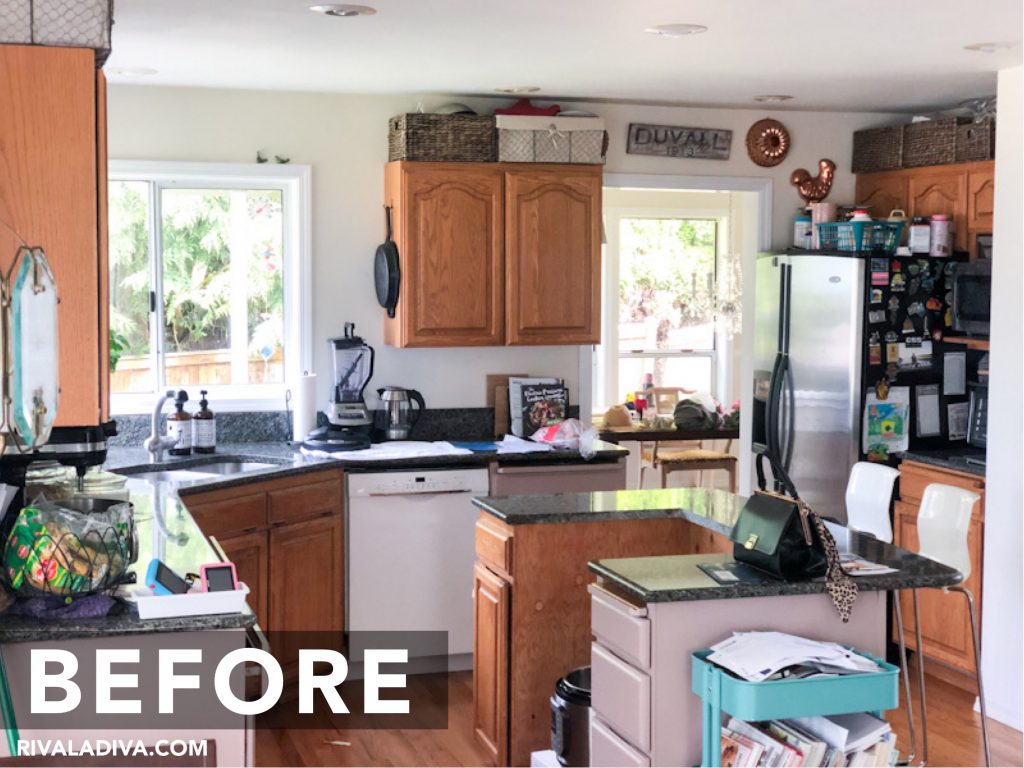 That was us, one year ago – oven less with four kids for almost 6 months, yikes!!
Although I must admit, even with an oven, the room wasn't much better. We didn't buy it that way, the expanding photo lens on the MLS listing made it much grander but in a nutshell, the kitchen was too small. Poor planned. Too dark for one of the most darkest cities in the world and joyless. It was claustrophobic and we felt the weight of the clutter and gloom of the environment inside and outside our home.
When the oven broke, there was a choice to be made, bandaid the current space with an overpriced down draft oven with zero bells and whistles, OR buy the oven of my dreams and redo the space in entirely!
Creating a Blush Kitchen – Inspiration
So it started with an oven…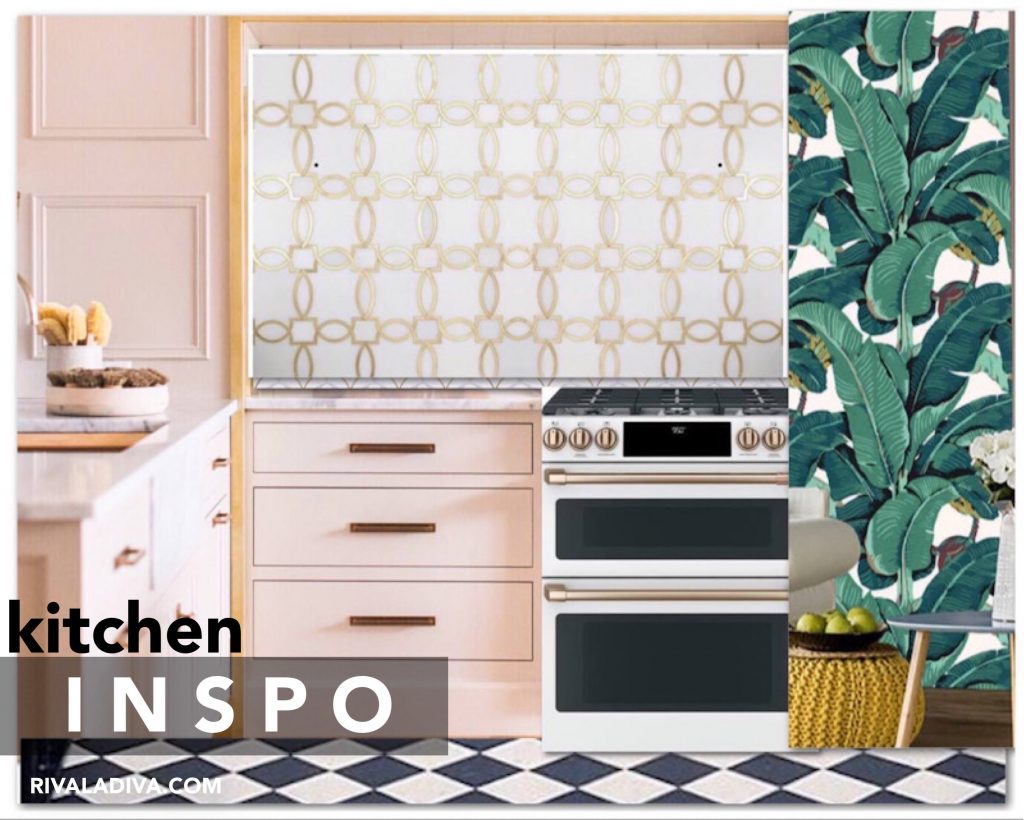 If you've ever had a double oven, you know that this simple feature is a game changer and it would not fit in the island so I quickly went back to my past for inspiration.
My husband and I lived rented a 1920's Mediterranean/Spanish home for a few year just outside of LA. Living in that well preserved and thoughtfully updated home was a dream and it gave me an appreciation for tile and color. It was one of the most glamorous homes I've ever lived in and it taught me that you can put whatever you want in your home regardless of current trends and staying true to Dorothy Drapers concept that "if it looks right, it is right".
Make You Blush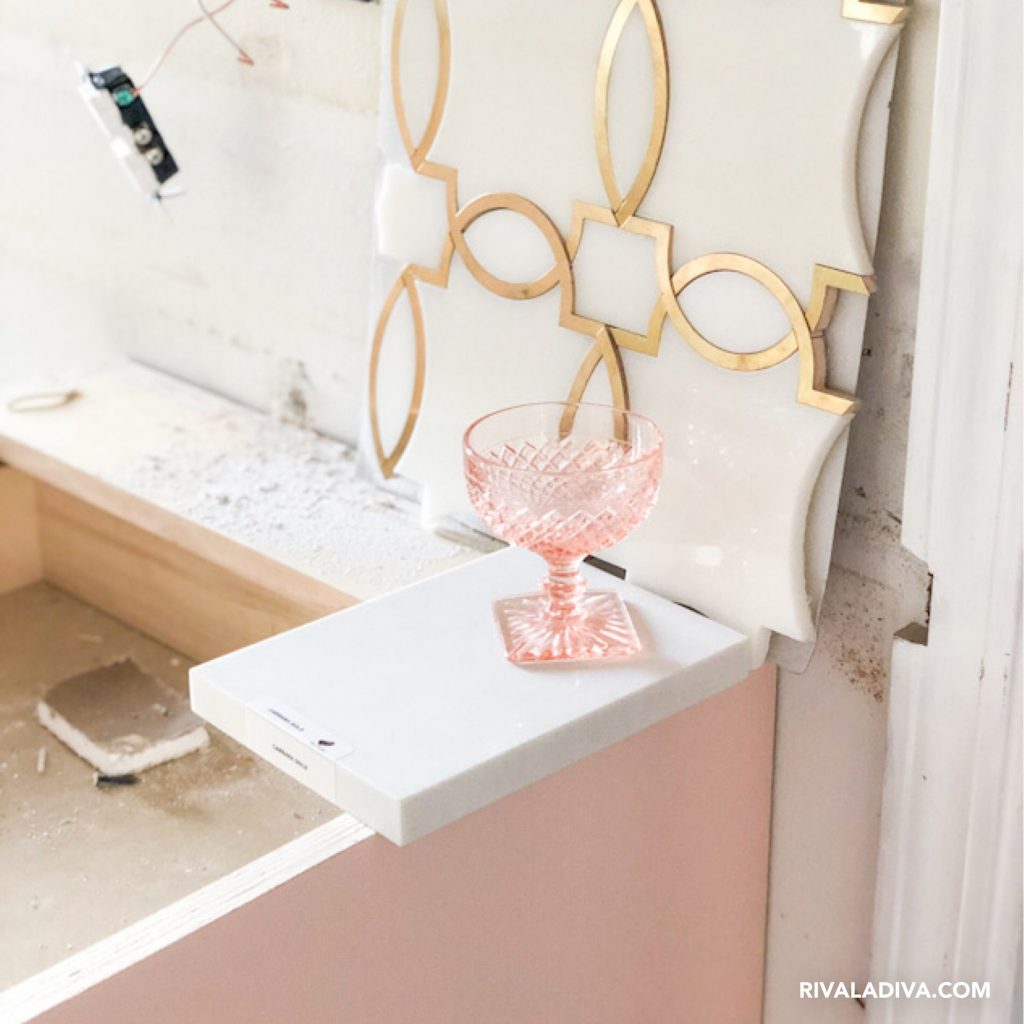 I found all my color inspiration from 1 vintage pink sherbet glass and a blacksplash that continues to nod to a more glamorous era. What most people are surprised to learn this is pink more orange than cotton candy and I learned this as well. I spent a week bringing home paint swatches from the pink section with zero success until I learned that the color I need was in my least favorite color family, orange.
GASP!!! Trust me gurl, I was in denial. Orange is my least favorite color but this my be my very first one – even if it reads more pink than anything else, ha!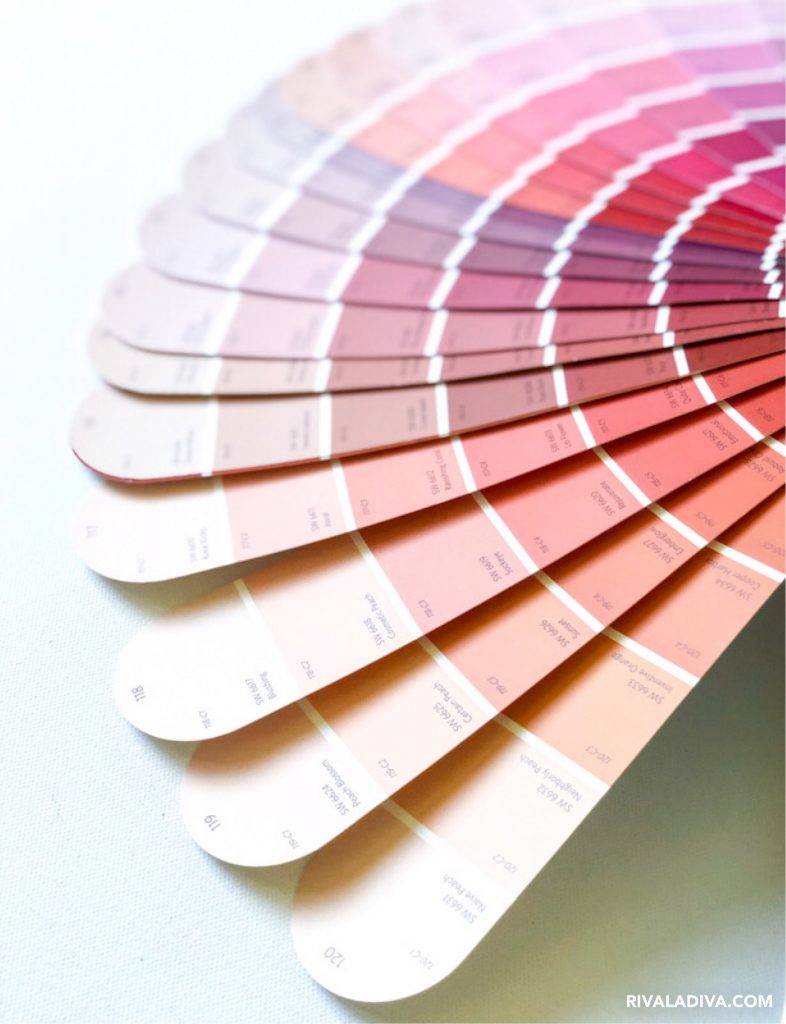 Meet my cabinet color, Sherwin-Williams "Blushing" (third lightest color from the bottom). The name is so appropriate am I right? It's perfect. Not quite pink and not quite orange, it's so light I tend to think of it as my take on a white kitchen… but let's be honest, you know me – I could never go full on white, ha!
After that, everything else came easier once I gave up what I "should do"
and designed more with what I wanted to do…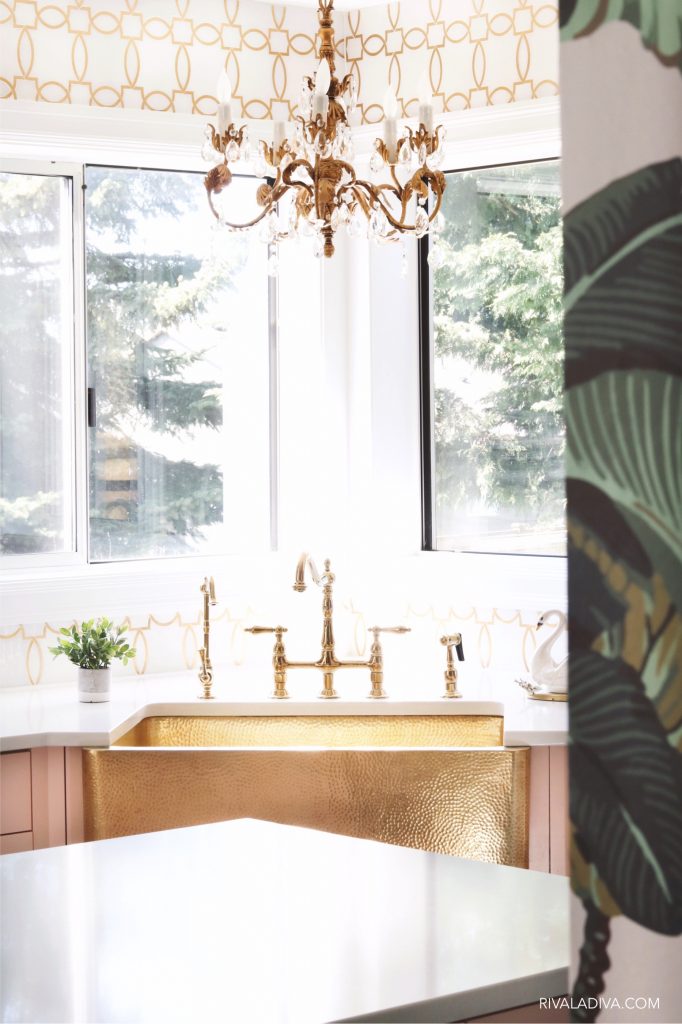 The gold brass sink was a supportive decision my husband made when a friend (possibly half kidding) that I needed a gold sink…
Seth: "you should buy it"
Me: "what? no way, that's way too much" (mind you, I'm a thrifty mother of 4 – I rarely splurge)
Seth: "so what. get it!" (he knows the struggle i have everyday with our gloomy PNW weather)

Blush Kitchen Reveal
And that became the process for the rest of the room…
if I can transport myself into a different world every morning when I enter my kitchen, where would I go?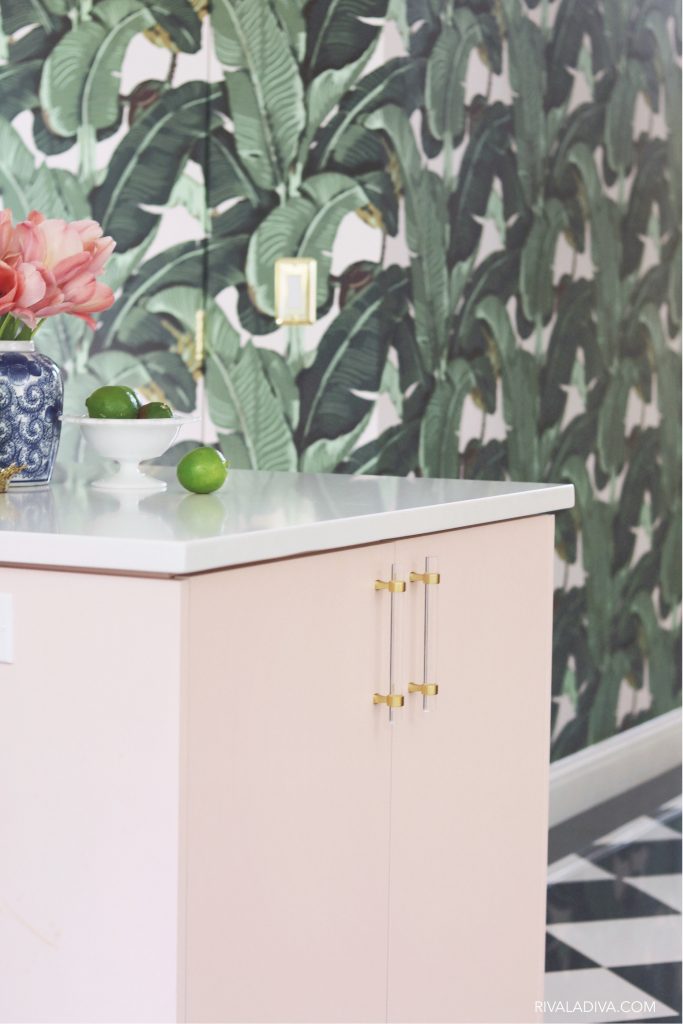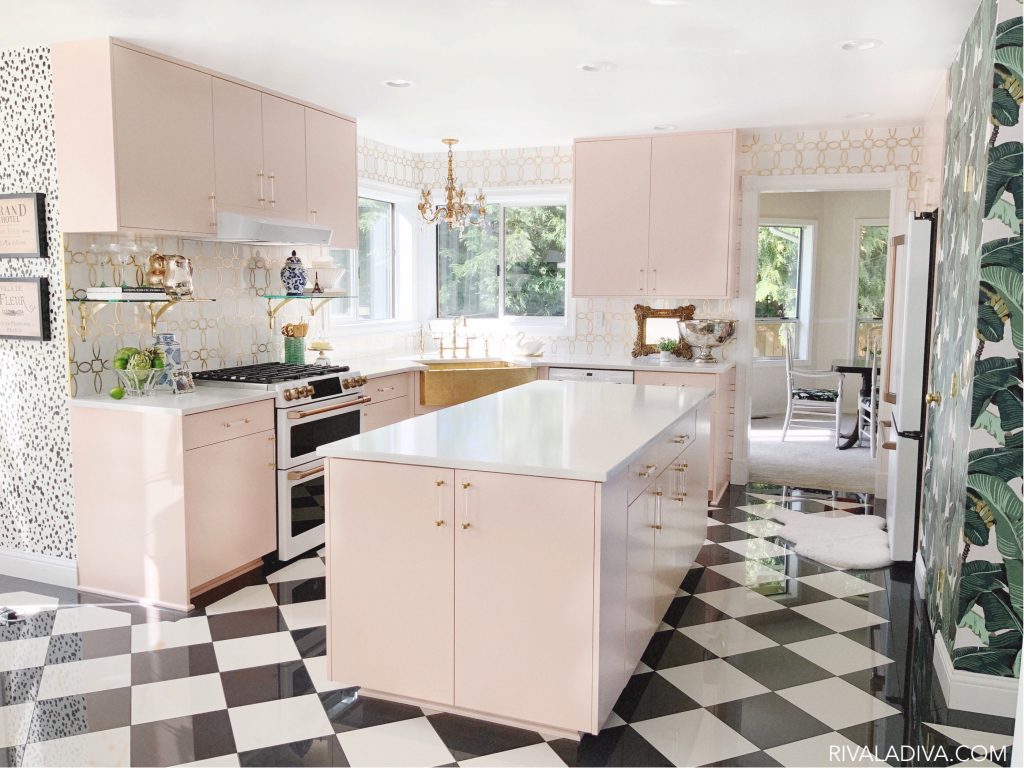 The keyboard checkered floors and gold brass detailing would suggest the castles I saw in Europe – they are timeless.
The Blush Pink and Banana leaf wallpaper would suggest old Hollywood – I'm looking at you Beverly Hills Hotel.
And the grandness I found in every NYC home I studied in the pages of Architectural Digest – the city alone is life changing.
In August, we'll celebrate 5 years in our time in the Seattle area and this has been the first time I felt like I was at "home". Dorothy Draper mentioned that the first rule of decorating is COURAGE and I have to admit that it took some courage to break free from tradition that I was slaved to for so many years and have fun filling the space with what I love! My husband loves it. My kids love it. Even the carpenters that came to work in our home enjoyed our "blush" space and if I can get a bunch of manly carpenters on board, then maybe you will like this, too!
It's been a lot of fun bringing you with me on this adventure! So let me know what you think and come visit my on Instagram, @RivaLaDiva and/or Facebook at Riva La Diva! So can also see where I found everything tagged on my social posts or keep scrolling for more specific details!
xoxo/ RIVA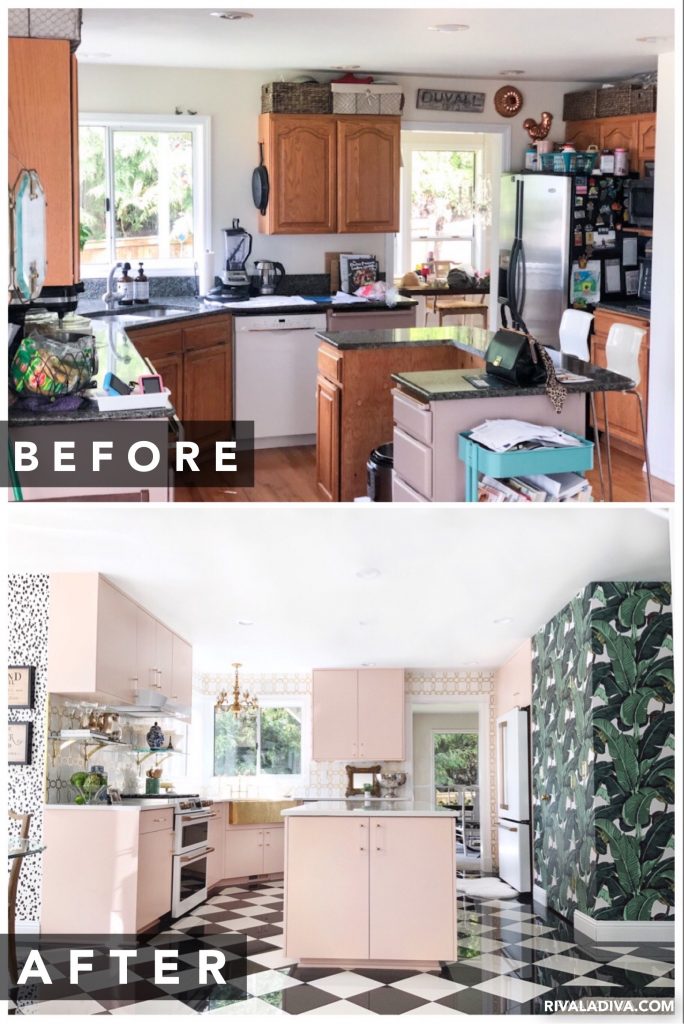 Blush Kitchen Details and Product Info
Tile flooring: Daltile in Zero and Avorio
Cabinetry: Alpine Cabinets (local company)
Paint Color for Cabinets: Blushing
Quartz: Teltos Carrara Gold
Cabinet Pulls: Gliderite
Brass Sink: Thompson Traders
Faucet: Kingston Brass Kitchen faucet
Backsplash: Floor and Decor White Brass Marble Mosaic
Range: GE Café 30″ Double-Oven Range in Matte White
Refrigerator: Café French-Door Refrigerator in Matte White
Chandelier: 1930's Vintage Chandelier (found on Facebook Marketplace)
Beverly Hills Inspired Wallpaper: Etsy
My amazing (and very supportive) contractor, Todd Whetten at Sounding Construction LLC.