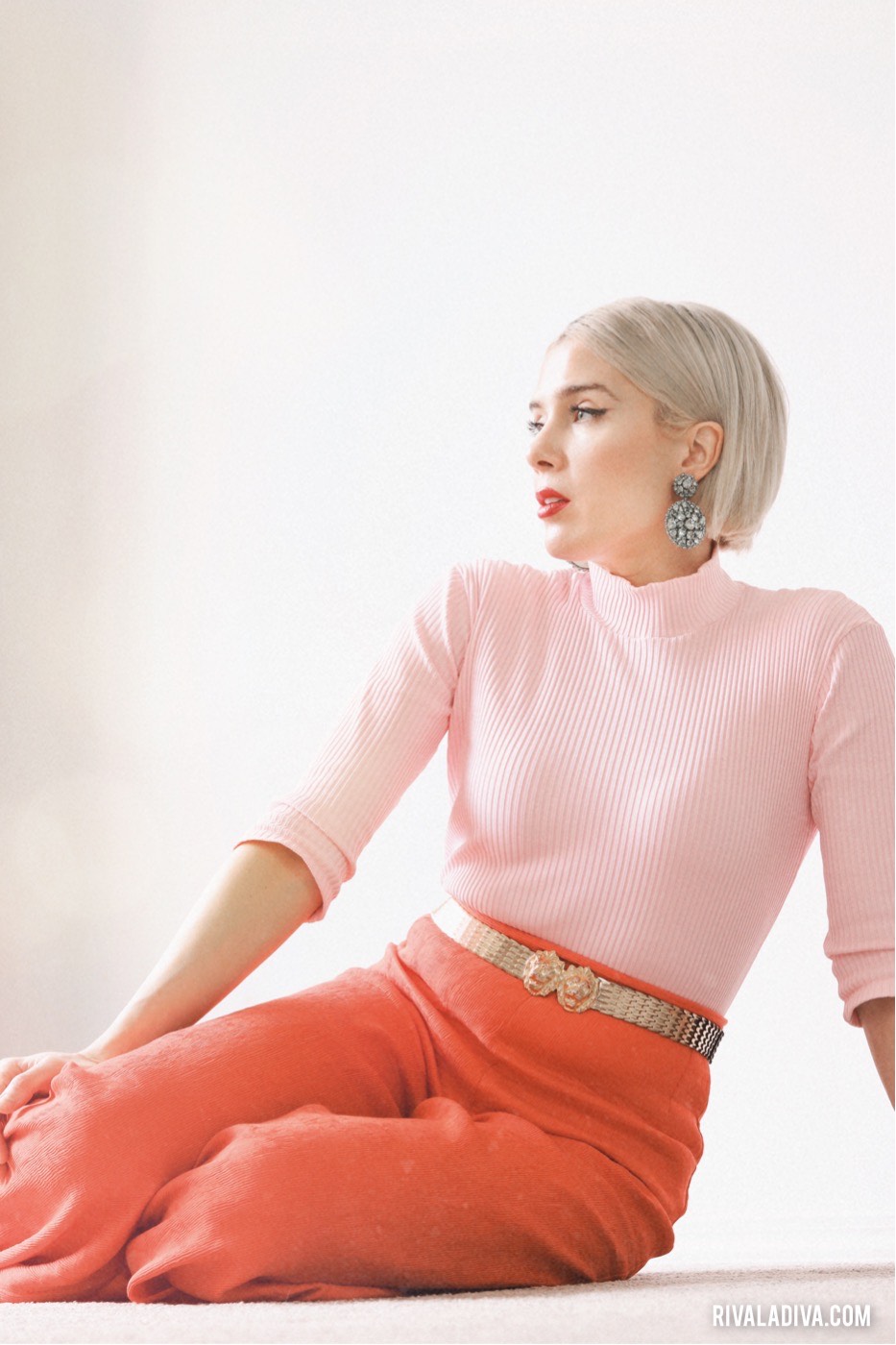 STYLE //Blush & Mandarin Color Block Outfit
STYLE //Blush & Mandarin Color Block Outfit
---
A color block outfit is on today's agenda because I love spring, I love to color block and I obviously love sewing a new outfit!
We simply do not wear enough orange and pink together out in the real world… and wide leg pants, oh how I love a wide leg pant and I don't care what my friends say, I will not be intimidated by a center part.
Wherever you fall on the wide leg pant or center part debate, I'm of the belief (and knowledge) these trends are not new. For a long time I could remember intensely refraining from anything turtleneck as a teen because it was "nerdy".
It took years to get over it. YEARS.
And so it goes on… you can remain flexible change with the times allowing yourself to explore and experiment.
Or get left behind… and it's okay to get left behind!
Life is a choose your own adventure book and it usually starts with what I put on my body.
Like this little blush and mandarin combo.
In the wild, we are flooded with tees and jeans all day long. I own many myself but I feel different when I mix it up. The last color block combo I created was this RED & PINK look. OH my gosh, I thought Iit was so cool. I felt so cool.
DIY Color Block Outfit details
I used Burda Pattern 6966 and McCalls M7983 for this look.
The fabric was sourced at Metro Textiles, PANTS and TOP (similar).
No Sew Looks – Shop My Favorites!
So I'm excited to play with this color block look for spring and ditch the traditional jeans and tee uniform, let me know what you think of this outfit! Are you flexible with trying new trends and looks? Also, please come visit me on Instagram, @RivaLaDiva and/or on Facebook at Riva La Diva! It a great way of staying up to date and get sneak peeks of my newest adventures!
mucho besos my darlings,
Riva