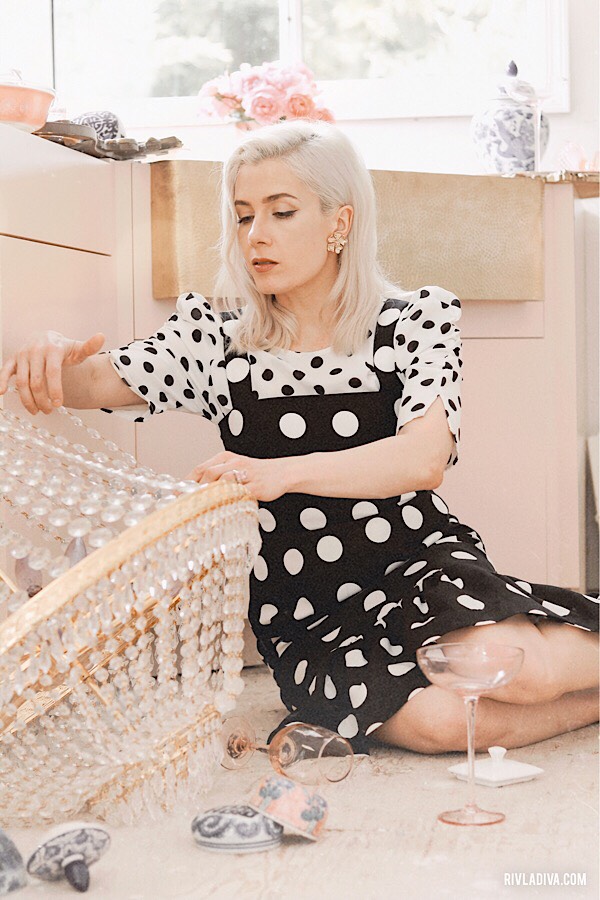 How to Wear Polka Dots like a Pro – 5 EASY Ways
How to Wear Polka Dots like a Pro – 5 EASY Ways
---
Who can resist the charm of a polka dot? I sure can't so I'm sharing 5 Ways to Wear Polka Dots;
especially when you pair it with another polka dot.
Have you tried this dot on dot experiment?
If you have, well hello there dawling…
Please tell us how you like to wear polkadots – sharing is caring.
And if you haven't, don't worry, most people don't but I'm here for ya and I'm gonna walk you through it.
The BIGGEST Polka Dot Myth
There is a huge misconception, somewhere out there, people made the unfortunate assumption that polka is always paired with a solid. Occasionally, I'll dabble with print mixing, you KNOW how much I love that (here), a little polka here and a little stripe there. It's easy.
However, most shy away from the dot to dot mix-up and I have to admit, I did, too until about 5-6 years ago when I found Gwen Stefani dressed in a polka dot on polka dot outfit. I've thought about that look often and have given it a try whenever I can, like ta-da-da, this post.
So let's officially debunk this dotty falsehood – you can wear spots with spots.
5 Best Ways to Wear Polka Dots… with Polka Dots
Blair from Atlantic Pacific is one of my favorite bloggers and she nails this look, EVERY. SINGLE. TIME. I'll break down my top 5 Ways to Wear Polka Dots that anyone can easily try!
It's all in the accessories.
This is your baby step into dot on dot living.
Find an easy blouse you love and work in more dot with dot experiences, scarf, shoes, watch, headband.
Bonus points if you can work in more than three!
Use Color.
Here, Blair mixes grey, navy and khaki polka dots.
She even has more fun, here.
But you can also go a little monochromatic like she did here.
Play with Outerwear!
I change my mind about "number 1" because this is your easiest trick for a little dot on dot action. Wearing a spotty coat allows you to play with polka dots but also keep it less committal.You can always take off your coat but you cannot have the same luxury with pants, ha!
Use Textures.
Laces, specialty sweaters with knitted yarn balls, dotted swiss fabric, and the use of pearls, beads and poms poms as embellishments are all great at giving the wearer the illusion of polkas. The photo below is a perfect example and would look amazing with a fine polka dot red print blouse!
or whatever color you fancy…


And my favorite way to mix polka dots with polka dots…

Playing with size.
The sizes do not have to be the same – so you better switch it up!
Black and white helps to tie the look together and keep it clean but color will always work if you feel confident enough to give it a try – Blair works this trend often.And I'm showing you here!




I love matching polka dot with polka dots, it's unexpected and so I always get fun feedback from admirers;
annnnnnnd you know me, I can NEVER get enough, ha!
And ahem, can we get distracted and swoon over my blush kitchen?!?!
I'm in love and the progress that's coming along. It would be so sad to miss the opportunity to play in it, as a result, iI thought it would be fun to take some pictures in it's unfinished state! It's a beautiful little mess filled with a few of my favorite things. I've talked about my Blush Kitchen Dreams last week and soon I'm sharing the exact shade of pink. It CLEARLY cannot be any shade of pink, righht?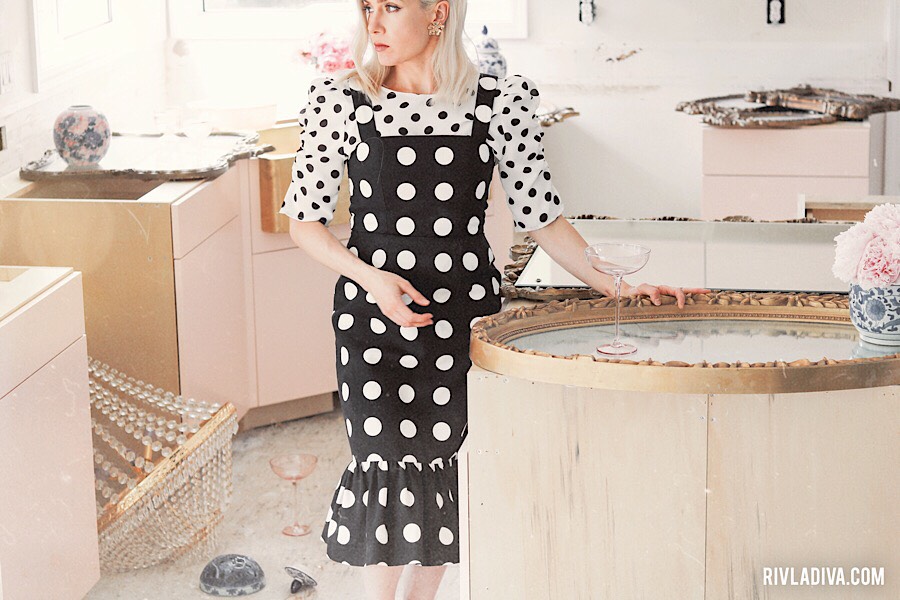 Come join me as I try to bring drama and romance to a house in the suburbs. I'm sharing lots of up close progress on our kitchen and behind the scenes stories about what I'm making next on Instagram, @RivaLaDiva and/or Facebook at Riva La Diva!
It's been a lot of fun bringing you with me on this adventure and sharing my ideas on social media, as a result, I've had some amazing feedback from YOU. Please comment below and tell me how you like to wear polka dots and which idea do you think you will try next?
Until next time, have a beautiful and glamorous day!
xo/ Riva
ON ME
Dress: Vogue Pattern 8766; Fabric: IKEA; Blouse: I found on my NYC trip; Leopard Shoes: Karl Lagerfeld